Nashik to Host First Grape Harvest Fest
IANS , Nashik | Updated: February 26, 2013 17:48 IST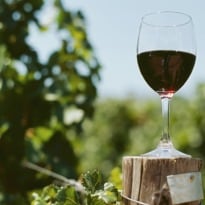 In a bid to popularise wine, the country's first Grape Harvest Festival shall be held in India's wine capital here March 2 and 3, an organiser said Sunday.

The wine festival will include stalls from wineries, wine-tasting sessions, seminars, grape stomping, a farmers market, cheese and wine tasting, and wine art amidst a host of live music and entertainment.

Organised by the Indian Grape Processing Board (IGPB) and the All India Wine Producers' Association (AIWPA), Grape Harvest 2013 is similar to grape harvest festivals held in Italy, Spain and France.

The mega-festival is expected to attract participation from top wine producers across the country.

"Nashik is the natural choice for a celebration of the grape harvest. After all, Maharashtra accounts for almost 50 percent of the total grape harvest in India," Neeraj Agarwal, senior vice-president, Winery Operations of Sula Vineyards, told IANS.

According to Agarwal, the annual grape production in the country stands at around 20,000 tonnes, of which Nashik region alone produces 10,000 tonnes.

The share of Sula Vineyards in this stands at a whopping 6,000 tonnes, and the company is now the market leader since it launched its first wines in the country in 2000.

Set amidst spectacular greenery with hills and lakes and a salubrious climate, the Sula Vineyards continues to experiment with new varieties, engages in sustainable agriculture and supports the local rural economy which has put Nashik on the world wine map.
Besides the Nashik-Pune-Bangalore belt, which is nearly 800 km long, grapes are also produced in 4,000 acres in Bhatinda, Punjab, and around 350 acres in western Uttar Pradesh.

Parts of Himachal Pradesh and now, some new sites in the north-eastern states, have also taken to cultivating grapes.