If you are a foodie like us, then you surely enjoy winter season to the fullest. We agree the dip in the temperature often gets unbearable, but the amazing food it brings along compensates for all. Winter brings along a pool of seasonal vegetables - each of which are fresh, crunchy and tastes delicious. The best part is you can prepare an extensive range of delicious recipes with these winter produce. What adds on to the popularity is the rich nutrient profile. Each of the winter vegetables are loaded with several essential nutrients that help boost immunity and benefit overall health. If you ask us, two of our favourite winter veggies are palak and bathua. These leafy greens are storehouse of vitamins, minerals, iron, protein, fibre and several essential nutrients. They not only keep us full, but also help nourish us from within.


Also Read: Winter Special: 8 Evergreen Palak (Spinach) Recipes For A Scrumptious Lunch


The very thought of palak and bathua reminds us of palak saag and bathua paratha. This delicious combo makes for a wholesome meal anytime of the day. But trust us, these leafy greens have much more to offer. They are so versatile that you can use them to prepare soup, salad, sabzi and more. One of our favourite recipes is palak paratha with bathua raita. This breakfast combo is easy to prepare and fulfilling to the core. Besides, it adds on to the vibe of the season too. Let's find out how to make the winter-special breakfast combo - palak paratha with bathua raita.
How To Make Palak Paratha: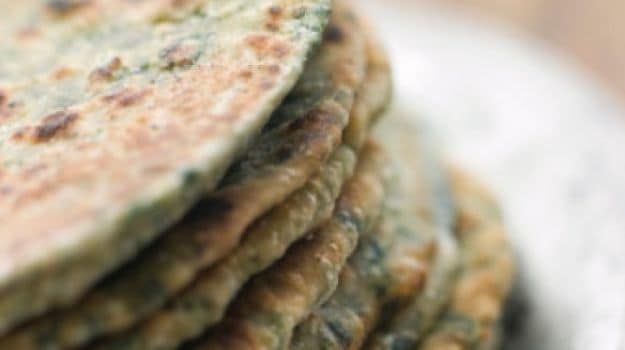 Winter season and paratha go hand-in-hand. We get to enjoy different types of parathas during the season - and palak paratha surely makes it to the list. To make this dish, you can choose any flour of your choice. We have taken a mix of atta and maida here. First, we take blanched palak, add green chillies and garlic to it and grind. Then knead atta and maida with oil, salt and palak puree and make a dough. Let it rest for 30 minutes and roll it into paratha and toast on tawa. And palak paratha is ready to relish.


Click here for the step-by-step recipe of palak paratha.
How To Make Bathua Raita:
To pair palak paratha, you can have achar and raita by the side. And if you follow our advice, we suggest try bathua raita alongside. To make bathua raita, whisk curd with boiled and chopped bathua leaves, salt and cumin powder. Then transfer everything in a bowl and serve with some chilli powder on it.


Click here for the detailed recipe.


Now that you have the recipes handy, try making this delicious breakfast today and indulge. And do not forget to let us know how you liked it.


About Somdatta SahaExplorer- this is what Somdatta likes to call herself. Be it in terms of food, people or places, all she craves for is to know the unknown. A simple aglio olio pasta or daal-chawal and a good movie can make her day.