The most important meal of the day is given some get up and go with your portable breakfast recipes for sweet and savoury granolas, fast and filling jars of oats and tasty tahini buns...Like cats and sunshine, and dogs and back scratches, I love breakfast. I love waking up for breakfast, I love having breakfast for lunch, I have a 98% success rate of wrangling breakfasts out of meetings – and for dinner, well, breakfast will always do. Not having breakfast is a surefire downward spiral to abject misery, hence the genius of this week's theme. Because more often than not, the weekday morning pressure cooker squeezes this beauty of a meal into saccharine cellophane wrappers to be scoffed on a bus or, worse, at one's desk, unless, that is, one has a special way of folding up that homely petit déj into one's bookbag. And readers, you truly do!
Fadime Tiskaya's za'atar flatbread rolls with ricotta and honey taste of Mediterranean summers. Simply bake the breads and take the fillings with you. TheWholeIngredient make a peanut butter and dark chocolate granola that, when packed in a jar with fresh fruit and yoghurt, is perfectly portable nutty, fruity goodness. Every bit as delicious, but even more suited to the short-on-time imperative of the packed breakfast are the caramel oat bites that Natalie Tamara rustles up. TwinnyDip's savoury granola is intriguing and toothsome in equal measure, although I can see this one elbowing in on meals later in the day – perhaps the quintessential brunch option. And then there's MarmadukeScarlet and her savoury rice porridge – topped with a soft-boiled egg, leftover roast chicken, chopped spring onion or chives as I had it, as well as crispy fried shallot, (all eminently packable), it's a delight at room temperature.
But the idea that has made for the best mornings this week is kmt393's overnight oats in a jar – the addition of lemon zest and yoghurt to the milk you soak your oats in (I used almond the first day, brown rice the second) is inspired, and the fresh pop of the blueberries contrasting with the cashew butter topping makes for something creamy, fruity and nourishing, in equal measure. Mostly, though, the reason I like this best is that it's meant to be packed up. The carrying-it-around-and-enjoying-it-elsewhere part only adds to its magic.
The winning recipe: overnight oats in a jar
A delicious, fresh tasting breakfast. I like to use porridge oats, but traditional rolled oats work just as well. It will keep in the fridge for a few days so it is easy to make a couple of portions ahead and it means that you don't get left with half an apple! My favourite nut butter to top it with is cashew but any type works.
kmt393, via GuardianWitness
Serves 1
60g porridge oats
½ apple, grated
1 tbsp chia seeds
150ml milk
3 tbsp natural yoghurt
Zest of half an orange or lemon
A handful of raisins and/or seeds (optional)
A squeeze of lemon juice
For the topping
A handful of blueberries
A handful of toasted or desiccated coconut
1 tbsp of nut butter (cashew works well)
1 The night before you want to eat the breakfast, combine the oats, milk, yoghurt, grated apple, orange or lemon zest, raisins and seeds (if using) and the lemon juice in a screwtop jar or plastic container. Give it a good stir and place it in the fridge.
2 In the morning, grab the jar, add the toppings of your choice and go.
Peanut butter pie granola
To eat at work, I take a jar layered with sliced banana or berries, this delicious granola and a splash of non-dairy milk. Nutty, sweet and wholesome, this granola is delicious and super quick to prepare.
TheWholeIngredient, via GuardianWitness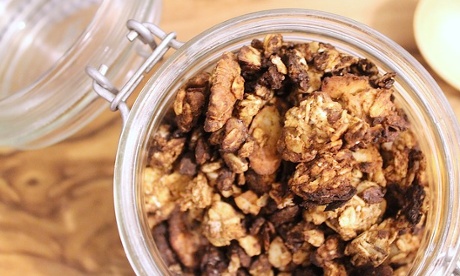 Serves 4-6
1 banana
5 dates, pitted
3 tbsp peanut butter
1 tsp coconut oil
200g rolled oats
50g pecans
25g flaked almonds
25g pumpkin seeds
15g sunflower seeds
2 tsp ground cinnamon
½ tsp ground nutmeg
35g dark chocolate, chopped into small chunks
1 Preheat the oven to 180C/350F/gas mark 4. Combine the banana, dates, peanut butter and coconut oil in a food processor until smooth. If you don't have a food processor, mashing with a fork will work just as well.
2Combine all the remaining ingredients except the chocolate in a mixing bowl and stir in the peanut butter cream until everything has been nicely coated.
3 Line a large baking tray with parchment paper and spread the granola mixture evenly over it to form a single layer. Cook for 35 minutes, stirring two or three times throughout to ensure even baking.
4 Immediately after taking the granola from the oven, stir in the chocolate chunks and allow to cool. Store in an airtight container.
Za'atar and tahini buns with ricotta and honey filling
When thinking about packed breakfasts, the first thing that comes to mind are the flatbread rolls my grandmother used to make for us when we were little, to eat on the way to the fields, where I would spend most of my days playing with my sister and cousins. We were too impatient to sit and have any breakfast as we wanted to go out as soon as we could, so she would quickly spread a thick layer of freshly made butter over a flatbread and sprinkle it with some sugar or, if there was any, some honey, roll it up and give us one each. And off we'd go.
This is my version of those most delicious rolls. I substituted the butter with ricotta and made my own flatbread rolls flavoured with za'atar. The combination of soft cheese, sweet honey and spicy bread works a treat. Homebaked bread makes all the difference, but you can use readymade pitta bread or even rolls for this recipe and mix the za'atar into the cheese or sprinkle it over the filling. You can always make the bread the day before and gently warm it in the toaster the next morning.
Fadime Tiskaya, via GuardianWitness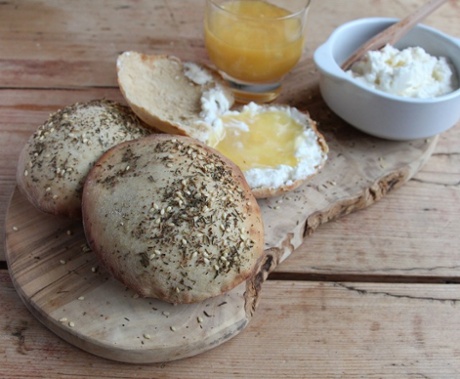 Makes 8-10
For the buns
70g plain yoghurt
50g warm water
4g dried yeast
4g salt
200g strong white flour
20g grape molasses or sugar
20g tahini
20g butter
1 egg
Olive oil, to brush over the buns
4-6 tbsp za'atar
For the filling
150g ricotta
75g mascarpone
8 tsp honey
1 Mix the yoghurt, water and yeast until the yeast dissolves and it is smooth. Let it rest for 5 minutes.
2 In a mixing bowl, combine the salt and flour. Add the rest of the bun ingredients until you achieve a dough consistency. Knead for 5-10 minutes, add more flour if needed and let it rest for 15-20 minutes, until the dough has almost doubled in size.
3Preheat the oven to 180C/350F/gas mark 4 and grease a large baking tray. Knock back the dough to get rid of the air bubbles and roll into a thick sausage shape. Cut into 8-10 pieces and form them into small balls. Roll each into 1cm-thick round buns. Brush with oil all over, and sprinkle generously with za'atar, gently pressing the spices into the top of the buns. Arrange on the baking tray and allow them to rest for 10 minutes, then bake for 10-15 minutes until they are golden brown.
4For the filling, mix the two cheeses together. While still warm, split the buns and fill with the cheese mixture and a drizzle of honey. Serve with a cup of tea.
Caramel oat bites
These are as simple as it gets, with just three ingredients. Try adding a pinch of sea salt for variety.
Natalie Tamara, via GuardianWitness
Makes 20
200g medjool dates
50g oats, plus an extra handful to coat
1 tbsp cashew nut butter
1 Put the dates, oats and cashew nut butter in a food processor and blend until they have formed a smooth, sticky paste. Put the mixture in the fridge for 10 minutes (this will make it easier to roll into balls).
2 Separate the mix into small portions, roll into balls and roll in the extra oats until they are coated. Store in the fridge until ready to eat.
Savoury granola
For those who sometimes crave a savoury breakfast, this is great served over plain porridge, yoghurt or avocado and roasted squash or sweet potatoes, or simply with plain yoghurt.
TwinnyDip, via GuardianWitness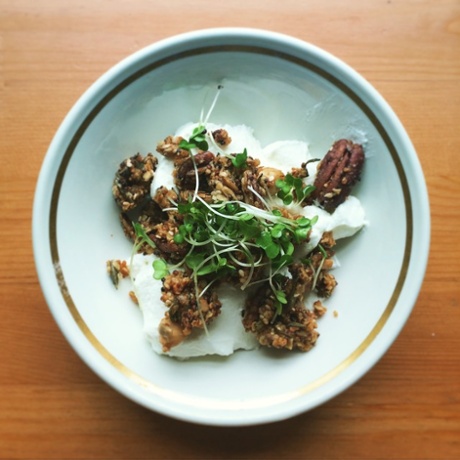 Serves 6-8
50g quinoa
110g porridge oats
150g mixed nuts
50g mixed seeds
25g ground almonds
45g black olives, chopped
3-4 sprigs of rosemary, leaves only
½-1 tsp smoked paprika
½ tsp salt, or more, to taste
30ml sunflower oil
2 tbsp honey or agave nectar
1 egg white
1 Prepare the quinoa as per the instructions on the packet and set aside to cool.
2Heat the oven to 150C/300F/gas mark 2 and line a baking tray with greaseproof paper.
3 Mix the cooled quinoa, porridge oats, mixed nuts, mixed seeds, ground almonds, black olives, rosemary leaves, smoked paprika and salt in a large mixing bowl.
4 Combine the sunflower oil with the honey or agave nectar, then pour into the granola mixture and mix well.
5Beat the egg white until frothy, then fold through the mixture.
6 Spread the granola on to the lined baking tray in a single layer and bake in the hot oven for about 30 minutes until lightly golden, stirring occasionally to ensure the granola is evenly baked.
7 Once baked, allow to cool completely and store in airtight box for about 1-2 weeks.
Savoury rice porridge
Looks like "workhouse gruel", one of my friends commented on seeing my rice porridge for the first time, or "badly mixed cement," added her boyfriend unhelpfully.
Of course, they were utterly wrong. Congee, juk or bubur (as it is known in China, Korea and Indonesia respectively) is one of the world's greatest breakfasts or comfort foods, despite its rather unprepossessing beige appearance. It makes a great packed breakfast as you can just reheat the porridge and add a selection of cold toppings, from crisp shallots and spring onions, to hardboiled eggs and leftover roast chicken. While it is nicest served hot, I quite like it at room temperature too.
Marmaduke Scarlet, via GuardianWitness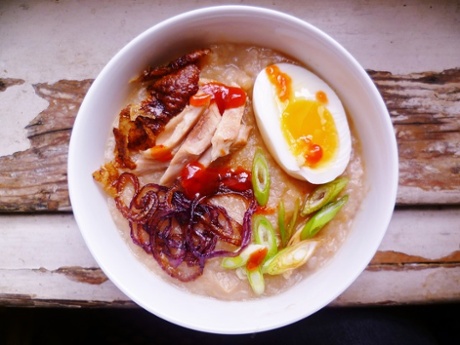 Serves 4
400g long grain rice, cooked
1250ml chicken stock
1 garlic clove, smashed
1 shallot, chopped
4 slices of fresh ginger, about 5mm thick
1 spring onion
1-2 tbsp soy sauce
Salt and pepper to taste
To garnish
4 hardboiled eggs, halved
Leftover roast chicken
4 spring onions, sliced on the diagonal
Fried shallots
Chilli sauce, to taste
Soy sauce, to taste
1 Heat the chicken stock, garlic, ginger and spring onion in a large saucepan and bring to the boil.
2 Add the rice and stir. Cover the saucepan and simmer over a low heat for about 1 hour. Add extra stock or water if it looks as if the mixture is too thick. Stir occasionally.
3 The porridge is ready when the mixture is thick. The rice grains will swell and begin to break up.
4 Stir in the soy sauce and taste for seasoning, adding salt and pepper if desired.
5 Top with garnishes and serve.
Eve O'Sullivan will be back next week.
Get you oats (and go): Overnight oats in a jar you can eat on the bus to work, from GuardianWitness contributor kmt393. Photograph: Jill Mead for the Guardian