In Part 1 of this series, Food Expert Marryam H Reshii took us on a delicious journey across South India as well as the Eastern part of the country. From Buns stuffed with bananas to puttu or dosas. from Kochuri to Ghugni, it was a glimpse into how our country breakfasts. This is in continuation of the same, in which we go towards Maharashtra, Goa, Madhya Pradesh and further North into UP, Punjab, Kashmir and Rajasthan. Drool on.
Long are the hours I have sat in
Mumbai
's
Irani cafes
, even in the now-anything-but-Irani-cafes like Leopold, and nursed a coffee and a keema ghotala with
pao
. No. I am not an avowed carnivore, who needs red meat at
breakfast
, but somehow the very name 'ghotala' sounds deliciously decadent. In neighbouring Goa, I spend all my time trying to recreate my childhood breakfast of a large enamel mug of tea with poie. In the 1960s, bakers' lads would cycle down our village, sounding a horn at the homes of regular customers. There were three types of
breads
: ring-shaped, 'scissored' and regular rectangular, which were most commonly baked, and my grandmother used to buy a mix of all three of them. They were all leavened with toddy in the days when toddy-tappers were a dime a dozen and baked in an oven that was fired with
coconut
husks. The aroma was incomparable. In today's
Goa
, it is far easier to find a fruit lassi in a café whose menu is written in the Russian script than the Portuguese-inspired bread of my childhood. But I keep dreaming…
(Buy Regional Spices and Exciting Breakfast Ingredients Here)
Neighbouring
Pune
has it easier.
Pohe
is cooked in every true-blue Puneri home, as much for breakfast as for afternoon tea. It isn't difficult to snaffle a plate of it literally anywhere in the city. I had my own a-ha moment just outside the main gate of Fergusson College, where a lady was selling it from a meticulously clean cooking vessel. After she fussed over a wedge of
lime
and a sprinkling of coriander leaves, she waited for me to finish and asked me shyly whether I enjoyed it. I did indeed, and this was one breakfast that cost me the princely sum of Rs 10 for the plate. Even tastier than pohe is sabudana
khichdi
, another standard fixture on every family's daily menu. You can get it at Manohar's, better known by its address: Mehandale Garage, a modest open-air eatery where the small, stunningly inexpensive menu includes their signature
sabudana khichdi.
Ever so slightly chewy, contrasted with crumbled
peanuts
, it is sweet with a hint of sugar and yet savoury too.In Indore, breakfast comes with its own twist. There's
poha
, yes. But there's also jalebis. On the same plate. And you are expected to eat a bite of each. And enjoy it. A lone stall in the wilds of Nehru Place (in
Delhi
) sells this combination. And the gent who owns it is from…you guessed it: Indore.
All lovers of dairy produce:
milk
,
curd
,
ghee
,
lassi
, will be champing at the bit, waiting for a mention of Amritsar, the city that has actually defined North Indian breakfasts:
parathas
and lassi, with lashings of ghee atop the former and lashings of
malai
atop the latter. Kanha on Lawrence Road, is where my family used to procure its Sunday breakfast and in this world of fast-falling standards, I am pleased to say that the taste today is exactly as it used to be in the mid-70s. You could, if you choose, go to the crowded inner city, around the Golden Temple and just about any stall selling
kulchas
or lassi will hit the spot: Amritsar takes its reputation for ingredients very seriously indeed. If you're not watching your waistline, you could even go for
pinnis
or fruit cream that is sold in the precincts of Lohgad Gate.
(Looking for Healthy Breakfast Ingredients? Shop Online on SmartCooky Now!)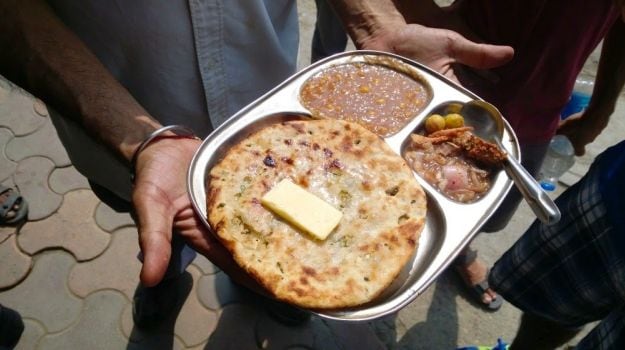 Image Credit: Kalyan Karmakar
In
Rajasthan
, you are spoilt for choice, though if you give me a lifetime's supply of asafoetida-scented
kachoris
from Sodhani's in Bapu Nagar,
Jaipur
, I won't ask for more. Of a completely different style from the rather over-rated onion kachoris that Rawat makes, these have a dry spice mix in the centre and lack the blisters that characterize their onion-filled counterparts. In
Jodhpur
, look no further than Janta Sweets for yet another style of deliciously flaky kachoris washed down with lassi that has to be eaten with a spoon! Down the same road, towards Ghanta Ghar, the two rather grungy mirchi bada (vada) stalls have a crowd permanently attached to them. One bite and you'll see what all the fuss is about.
Lucknow
and Banaras have their proponents for which city has the best food. All I will say is that I am more familiar with the breakfast treats of Banaras: the shabby little huts that line the Lanka crossing look mighty improbable, but they cater to hundreds every morning, frying golden jalebis to go with
kachoris
: the Banarasi version resembles a
puri
. By the time the lunch hour rolls around, the jalebis stop and curried
potatoes
make their appearance. But by that time, you should have had your fill of the winter treat called
malaiyyo
or the whipped top-of-the-milk layer that is lightly sweetened and flavoured with
saffron
. Supplies usually run out by 10 am, so plan your day accordingly. The best stalls are around the Gopal ji mandir.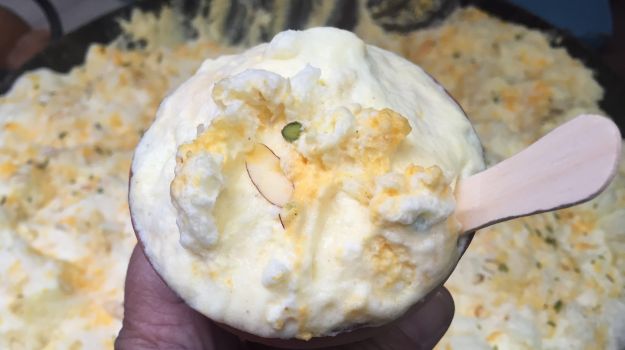 Image Credits: Marryam H Reshii
In
Kashmir
, the breakfast menu depends on the season. In summer, it is usually salted tea: a distinctly acquired taste, with a range of breads that are typically eaten within a couple of hours of being baked. In winter, harissa – a mutton paste eaten piping hot – is sold by a few well-known stalls in the Old City.My heart goes out to all those who think that breakfast is a meal of two toasts with
tea
. It certainly does not have to be just that.
About the Author:
Marryam H Reshii has been writing about food and lifestyle for a quarter of a century! She travels around the country to far-flung tribal villages and long-forgotten corners in search of elusive ingredients, obscure cooking vessels and recipes that are in danger of being supplanted by 'modernity'.
Disclaimer:
The opinions expressed within this article are the personal opinions of the author. NDTV is not responsible for the accuracy, completeness, suitability, or validity of any information on this article. All information is provided on an as-is basis. The information, facts or opinions appearing in the article do not reflect the views of NDTV and NDTV does not assume any responsibility or liability for the same.