Salt Can Kill Cancer Cells, Says Study
NDTV Cooks | Updated: August 13, 2014 23:16 IST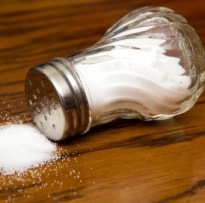 Could salt be a potential game-changer in finding the cure to cancer? A study that appeared in the Journal 'Nature Chemistry', said that cancer cells can be made to self-destruct if injected with salt.

Researchers have created a molecule that can carry particles of sodium and chlorine called ions into cancer cells. These are the two elements that make up salt.

Philip Gale, study co-author and professor from the University of Southampton said, "This work shows how chloride transporters can work with sodium channels in cell membranes to cause an influx of salt into a cell. We found that we can kill the cancerous cell if we inject it with salt."

Cells in the human body work hard to maintain a stable concentration of ions inside their cell membranes. Disruption of this delicate balance can trigger cells to go through apoptosis, or programmed cell death, a mechanism the body uses to rid itself of damaged or dangerous cells.

When a cell becomes cancerous, it changes the way it transports ions across its cell membrane in a way that it blocks apoptosis. This new synthetic ion transporter works by essentially surrounding the chloride ion in an organic blanket, allowing the ion to dissolve in the cell's membrane, which is composed largely of lipids or fats.
Jonathan Sessler from the University of Texas added, "We have shown that this mechanism of chloride influx into the cell by a synthetic transporter does indeed trigger apoptosis."

With inputs from IANS