Global coffee chain Starbucks, which operates its cafes in India in partnership with Tatas, continues to sell products rejected by central food safety regulator FSSAI after risk assessment. The company on its part said it is "diligently working with FSSAI" to provide information regarding pending applications.The Food Safety Standards Authority of India (FSSAI) had rejected applications submitted by Tata Starbucks for a total of 32 products in April. These rejected products include coffee frappucino, vanilla syrup and hazelnut flavoured syrups, which are still sold at the cafe chain's outlet in the heart of the Capital.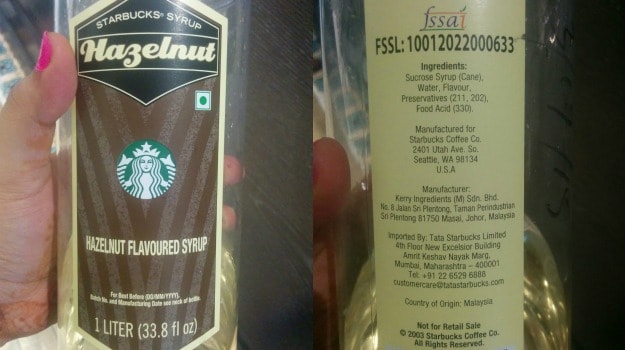 When asked for comments, Tata Starbucks CEO Avani Davda said: "We are diligently working with the Food Safety and Standards Authority of India (FSSAI) to provide the technical information relating to our pending applications that they have requested."
She said the company imported globally standardised product ingredients, with all applicable authorisations and these are identical to the products that are served to customers in over 60 countries where Starbucks operates. "As a premium global retailer, Starbucks has the highest standards for the experience, beverages and food we offer our customers and we are committed to complying with the regulations in every market we operate in," Davda said in an emailed reply.
The company, however, did not respond why it continued to sell the products which have been rejected by FSSAI. Last week, FSSAI has handed over a list of 500 products rejected by it as of April 30, 2015 to the state food safety commissioners.
These included Kellogg India's 'special K Red berries' and Field Fresh Foods' natural vinegar, hot sauce (proprietary food) and egg myonnaise/salad dressing variants. When contacted Kellogg India spokesperson said: "This product has not been launched in Indian market and will be available only once the approval is received from the authority."
Similarly, Field Fresh Foods spokesperson said: "The Hot Sauce (Proprietary Food) and Egg mayonnaise/Salad dressing variants mentioned in the application are still in the development process and not yet launched. The FSSAI did not approve the application due to inadequate information provided within the stipulated time, which is now being provided."
Last week FSSAI had banned Nestle's Maggi saying it was 'unsafe and hazardous' after tests found presence of lead and monosodium glutamate above permissible limits. Nestle had also withdrawn the instant noodles brand from the market. According to an official, FSSAI has asked state food safety commissioners to inspect and evaluate all packaged foods products in the country, including even those which are not registered with the authority.
"FSSAI top officials also directed the state government officials to start collecting samples of those products which have been rejected by the authority. In case if commissioners found any packaged food product unsafe to consume they are entitled to take action," the source said.