Sugar, Spice and Plenty of Icing: The Story of Gingerbread at the White House
Roxanne Roberts, The Washington Post | Updated: June 27, 2017 17:03 IST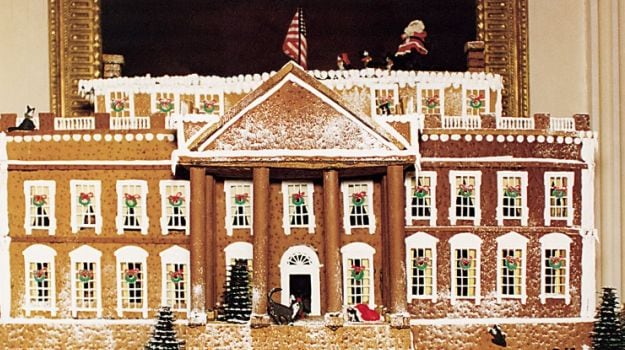 As gingerbread houses go, it was relatively simple: big, brown and dusted in powdered sugar. But what made this White House mansion so charming were the 22 little black-and-white cats frolicking in the snow, on the roof, and at the entrance. It was a playful tribute to Socks, the family feline, for the Clintons' first Christmas in Washington and remains a sentimental memory for former executive pastry chef Roland Mesnier.

"That's my favorite of all," says Mesnier, who built the house in 1993. "Socks was such a neat guy." The presidential pussycat not only personally inspected his marzipan doubles but also took a small nibble from the left side of the house. Because ... cats.

There are gingerbread houses - candy-covered Christmas cottages - and then there is White House gingerbread, confectionery masterpieces created for the first family, their friends and the thousands lucky enough to see the display in person. The annual gingerbread house has become the star of holiday parties and the backdrop for a month of festive selfies.

Now there's a definitive guide to these edible edifices: "The White House in Gingerbread" by Mesnier and his old friend, pastry chef Mark Ramsdell. The glossy photo book, published by the White House Historical Association, includes the history of gingerbread at the executive mansion, holiday dessert recipes, instructions for making gingerbread houses at home and a template for creating a White House gingerbread model.

These extravaganzas are so well-known that fans gathered Saturday at Praline Bakery in Bethesda, Maryland (owned by Susan Limb and Patrick Musel, both of whom worked in the White House kitchen), to hear Mesnier and Ramsdell talk about how they created them.
"I tried to make them very, very personal," said Mesnier, 71, who worked at the White House for 26 years and five presidents. "I think that's what created the excitement around them, because we were going for different designs and different themes."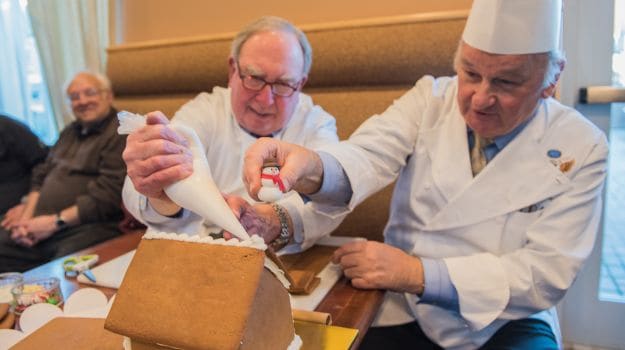 Mark Ramsdell, left, and former White House executive pastry chef Roland Mesnier demonstrate how to build a classic gingerbread house at Praline Bakery in Bethesda. Photo for The Washington Post by Dixie D. Vereen

Gingerbread houses have been around for centuries, but the first official one at the White House was created in 1969 for Pat Nixon by assistant executive chef Hans Raffert. It was a traditional A-frame cottage with a steep decorated roof, a nod to Raffert's German roots.

Raffert made several variations on that Hansel and Gretel theme until 1992, when Mesnier took on the construction duties. Barbara Bush gave him free rein on the design, and he produced a small gingerbread village populated by marzipan elves, reindeer and a Mrs. Claus wearing pearls.
In 1993, Mesnier made a gingerbread model of the White House, followed the next year by Bill Clinton's childhood home, then Hillary's childhood home, a "Nutcracker" ballet with Chelsea, and Santa's workshop with Santa holding a cellphone, which created a sensation in 1997. Laura Bush preferred the traditional White House design, so Mesnier created four versions for her, including one featuring presidential pets and another based on classic children's books.

"Mrs. Bush was very partial to the White House," he explained. "I always wanted to do a futuristic house, really crazy. That was vetoed every time."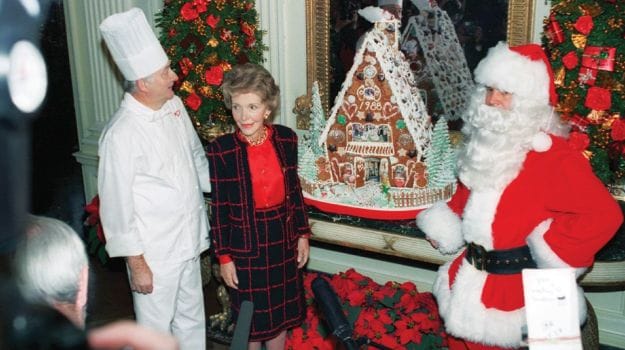 First lady Nancy Reagan and Chef Hans Raffert visit with Santa in front of the 1988 gingerbread house, a traditional A-frame design from Germany. Courtesy of Jennifer B. Pickens/Ronald Reagan Presidential Library and Museum/NARA

Under Mesnier, the houses were all made of gingerbread. For the past few years, they've been covered with white chocolate, which looks more like the real White House but not as much like a gingerbread house. White House executive pastry chef Susan Morrison made a dark chocolate version this year that weighed 500 pounds.

Mesnier is a bit of a stickler on the point of gingerbread houses being, well, gingerbread. "I'm very proud of the work in this book, because it's the real thing," he said. Like most traditional pastry chefs, he believes that everything - the house, the internal structure, all the decorations - should be made by hand and entirely edible inside and out. "Something that is homemade is always much more appreciated than something that just comes out of a mold," he said. "Anyone can do that."
Not that you'd want to actually eat one of these houses, given that thousands of people breathe on it during the holiday parties, but technically you could.

Mesnier began working in the summer every year to create his tributes to the president's family. The small decorations - marzipan figures, hand-blown sugar - were always made first, because they could be stored in the tiny pastry kitchen.

But once the staff began baking the gingerbread in November, it was all hands on deck for a week or two - Mesnier and his crew took over the White House China Room, hand-piping royal icing windows on slabs of gingerbread, sanding walls to create perfect angles, and assembling the house. It took several strong men to move the finished product to the State Dining Room, where it was unveiled every year just after Thanksgiving.

This is in addition to the 120,000 cookies, cakes and desserts the pastry team created for the 50,000 or more people who come through the White House doors every December.
"It got to the point where people would say, 'What are you doing for Christmas?' and I would say, 'Absolutely nothing,'" said Limb, who was part of Mesnier's pastry team for seven years.

November and December were intense: first making the gingerbread house, then baking every day to ensure that they never ran out of desserts. Mesnier arrived at the White House by 6 a.m., his staff two hours later, and they often stayed until 10 p.m. By Christmas Day, everyone basically collapsed into an exhausted heap. But Roland, said Limb, "made it fun. It was a lot of work, but I really enjoyed it."
Mesnier retired in 2004, but Laura Bush called him back to create one more gingerbread White House in 2006: a red-and-white mansion with red bows and 850 snowflakes hand-piped with royal icing.
It was gorgeous. And his last, says Mesnier: "I told her, 'Please don't call me anymore, because I will be the only man known to have jumped the fence going out.'"



(c) 2015, The Washington Post