The mighty
jackfruit
is probably the most underrated of all Indian fruits. And it isn't without reason. While mango – the king of fruits – is irresistible with its curves and sweet aroma, the jackfruit sits plump with its ugly cover and foul smell that is capable of making many run miles away. I have been told on several occasions that the love for it grows slowly as you acquire the taste, but with time and over several attempts it has only faced my wrath.As much as I detest the ripe fruit, ironically, I am extremely fond of it in its raw form. This is because raw jackfruit is devoid of the smell and is commonly used across India to make rich, flavourful dishes. Its texture is similar to that of cooked meat and can almost fool one when prepared masterfully. But cutting open the fruit is not an easy task and requires some skills. A common tip is to generously apply oil on the knife and hands as a protective measure against the gummy latex that resides inside. The tough exterior encloses several seeds that are wrapped in the juicy orange-yellow flesh.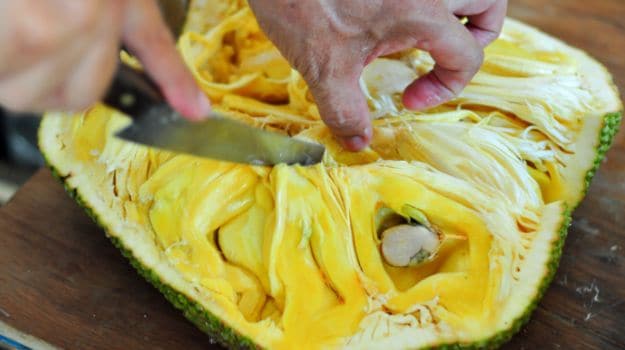 The Indian Roots
Legend has it that jackfruit or
kathal
originated in the rainforests of the south-western parts of India – Kerala, Karnataka, Maharashtra and Goa. The tropical fruit has therefore been a common ingredient in the local kitchens since ancient times. Only later the Indian traders introduced it to other parts of the globe and thereon it became extremely popular in south-east Asian countries, Nepal, Sri Lanka, Bangladesh, Brazil and even Florida.According to Ayurveda, jackfruit is considered to be an instant energy provider, and is said to decrease
vata
and
pitta
. It is also rich in antioxidants, vitamins and minerals, and helps in easing digestion. As such it is considered good for the heart, lungs, blood pressure and asthma.
Some Like it Ripe
Come summer and the best source of refreshment is seasonal fruits. While ripe jackfruit is commonly eaten as it is, some also prefer to make juices and smoothies with it. In Kerala, where is it known as
chakka
, the ripe fruit is popularly used to make a jam called
chakka varatti
. This is relished with
papadums
or used in making a traditional dessert called
chakka pradhaman
, which is a type of
payasam
prepared with coconut milk.In Mangalore, a traditional tea-time snack called
ghariyo
is made with jackfruit. The recipe for the sweet fritters instructs grinding soaked rice with ripe jackfruit and palm sugar until a thick paste is obtained. To it, grated coconut, cardamom and rice flour are added and small balls of the dough are then deep-fried in coconut oil until crisp.Goans make a delicious jackfruit cake called
pansache dhonas
using the ripe fruit pulp. It is mixed with
rawa
(semolina), jaggery, cardamom powder, nuts and grated coconut, and then steamed. Just before serving, the cake is fried in
ghee
on both sides to enhance the flavour.The ripe fruit can also be treated like mango and used for making salads, puddings, etc. In Karnataka and West Bengal, the fruit pulp is often used to make candies, whereas in Maharashtra, it is used to make a pancake called
phanas poli
as well as kheer. If you are up for some experimenting, you can use the pulp to make pannacottas, ice creams or fruit cakes.
On the Raw Side
Raw jackfruit is mostly used as a vegetable across the country to make stir-fries and curries. One of the most popular dishes is
kathal ki biryani
since the raw fruit works as the perfect substitute to meat and beautifully captures the same characteristics. This very trait of the fruit used to be my mother's clever means of making a vegetable-hating and meat-loving child finish a plateful of jackfruit curry without a single complaint. She would roast the cube-sized pieces with
masalas
and then slow cook them until tender and smeared with the deep brown gravy.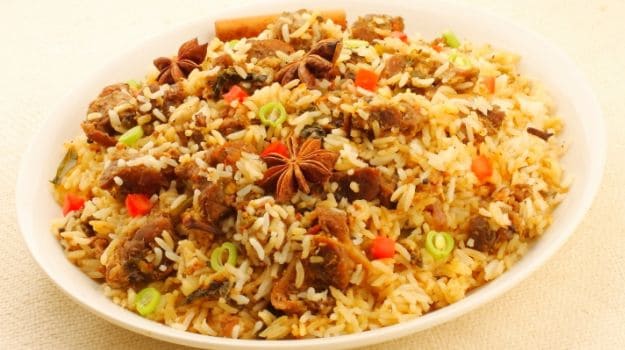 Kathal ki Biryani
Similar cooking methods are followed across the country, but with different mix of spices typical to the regional cuisines. While the east uses
panch phoran
and mustard seeds, the north uses
garam masala
and whole
jeera
, and the south-west uses chillies and coconut. In the north, of all the preparations, two dishes that stand out are
kathal ke kebabs
and
kathal do pyaza
, where the latter makes use of the process of slow cooking in a dum to develop the flavours.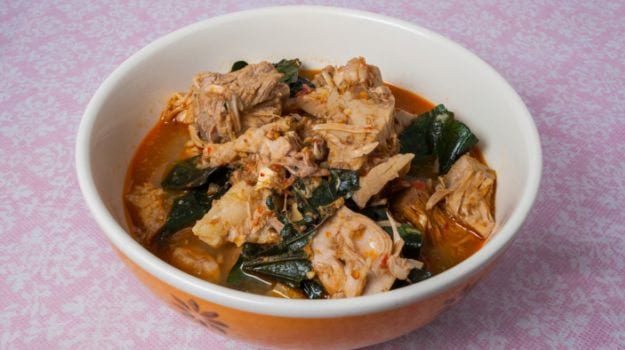 Jackfruit curry
Jackfruit chips, a much-loved preparation in the south with an impressive fan base across other parts of the country as well, are touted as a healthier alternative to potato chips. The slender strips of the raw fruit are smeared with turmeric and chilli powder, and deep-fried in coconut oil until crisp.Back home in Assam, my mother also uses raw jackfruit to make pickles. Much like meat pickles, it is cooked with spices and chillies, and can last up to two weeks.
Flavourful Seeds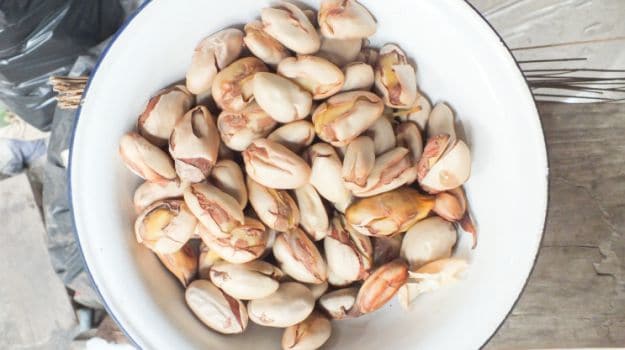 Jackfruit has to be one of the most versatile of all fruits. The seeds too are extensively used in various preparations across the country. Similar in taste to water chestnuts and lotus roots, jackfruits seeds are first boiled and then made into
burfi
and
halwa
, or used in dal, stir-fries and curries. In east and north-east India, a common preparation involves mashing the boiled seeds with chillies, chopped onions, and mustard oil, and relishing it with rice and dal, whereas in Coorg, it is used to make a spicy chutney called
chekke kuru pajji
.