No one knows how many Indian restaurants exist worldwide; reportedly there are more than 5,000 in the United States alone. The exact number depends on how you define "Indian" and "restaurant."And most of them - from a little mom-and-pop shop on the corner to the Michelin-starred Junoon in New York City - serve many of the same dishes, the standard repertoire that diners have come to expect. The menu just isn't complete unless it contains skewered chicken tandoori in all its chile-hot, bright red glory, and butter chicken with its rich sauce in which to dip your naan."My grandfather invented both," says Monish Gujral, 52, sitting in his family's flagship restaurant, Moti Mahal, in the middle of India's capital, Delhi. "In fact, I often think that it is hard to imagine Indian food today without my grandfather's inventions." He sounds proud and thoughtful more than boasting.Most dishes develop gradually, through a combination of natural conditions, slow adaptation of tradition and the occasional innovative twist. You'd be hard-pressed to say when the dishes we today know as boeuf bourguignon and spaghetti Bolognese were invented; they just gradually came to be, as regional dishes promoted by a collective of home cooks.But according to Gujral - and millions of Indians who have grown up with this story - tandoori chicken was invented in one sudden flash of inspiration by Gujral's grandfather Kundan Lal.Lal grew up in a poor family in what is today Pakistan. He managed to work his way up from kitchen help to the senior cook at a restaurant in Peshawar in the years before independence. One day, in the late 1920s or early 1930s, he was asked to invent a dish that was a little lighter than the traditional, heavy regional specialties that were normally served at parties and other functions and celebrations.
Tandoori Chicken
4 to 6 servings This recipe tastes as close as you can get to the flavor of original tandoori chickens - it comes from an impeccable source in restaurateur Monish Gujral, whose grandfather, Kundan Lal, is the alleged inventor of that classic Indian dish. Gujral says cooking at the hottest temperature your oven can muster (500 or even 600 degrees) is key. Remember to use a good kitchen fan, or to keep your windows open, because there will be smoke.It's best to use metal skewers for this, or be sure to soak bamboo skewers for 30 minutes before using.The tandoori chicken served at Gujral's Moti Mahal restaurant is made with a whole butterflied chicken, but Gujral recommends using pieces of boneless chicken the first few times you make the dish at home.Serve with rice or naan, raita and a good-quality Indian chutney.MAKE AHEAD: The chicken needs to marinate for 1 hour, and then for 3 hours (in the refrigerator).Kashmiri chile powder is bright-tasting and lends a beautiful color to this dish; you can find it at Indian markets or substitute a blend of paprika and cayenne pepper.
Adapted from India restaurateur Monish Gujral.
Ingredients
1 1/2 pounds boneless skinless chicken, cut into 1 1/2-inch chunks (light and dark meat; see headnote)
1 1/2 tablespoons fresh lime juice
1 1/2 teaspoons kosher salt
1 teaspoon Kashmiri chile powder (or substitute 1/2 teaspoon each paprika and cayenne pepper; see headnote)
6 tablespoons plain, full-fat yogurt
1 tablespoon minced garlic
1 tablespoon peeled, minced fresh ginger root
2 teaspoons garam masala, or more as needed
1/2 teaspoon ground fenugreek, or more as needed
Vegetable oil, for basting
Steps
Use a sharp knife to make shallow cuts in the thickest part of the chicken.Combine the lime juice and salt in a bowl large enough to hold all the chicken pieces; add the chicken and toss to coat evenly. Cover and refrigerate for 1 hour.Uncover; add the chile powder, yogurt, garlic, ginger, garam masala and fenugreek, tossing well to coat and distribute evenly. Cover and refrigerate for 3 hours.Preheat the oven to 500 degrees.Thread the chicken pieces onto skewers, season with a little more garam masala or fenugreek, if desired. Roast (middle rack) for 5 to 6 minutes. Baste with a little oil and continue roasting for 3 to 4 minutes.Check if the chicken is done by cutting into one of the larger pieces. If it is still pink in the middle, roast for another 3 to 5 minutes and check again.Nutrition | Per serving (based on 6, using half white and dark meat and 1 tablespoons canola oil): 190 calories, 25 g protein, 2 g carbohydrates, 9 g fat, 2 g saturated fat, 85 mg cholesterol, 370 mg sodium, 0 g dietary fiber, 0 g sugar- - -
Butter Chicken
4 to 6 servings (makes 4 cups)This is classic dish is often referred to as murgh makhani; here, the point is to smother good grilled chicken in a rich sauce. The dish was created as a way to keep cooked/leftover tandoori chicken from drying out.In case you have not already made Tandoori Chicken (see related recipe), this recipe includes simple instructions for cooking the chicken. The result is not as good as if you make the proper Tandoori Chicken first, but it is simpler.Serve with finely chopped cilantro, chopped green chile peppers, naan, rice and a good Indian chutney.MAKE AHEAD: The dish tastes even better after a day's refrigeration; you may need to add a little cream or water to thin the sauce, which will thicken when it's chilled.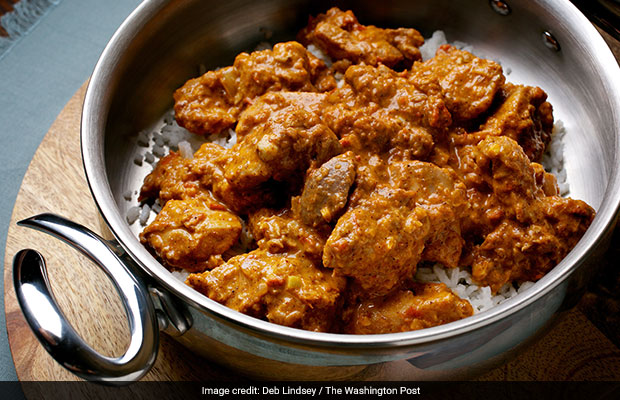 Adapted from India restaurateur Monish Gujral.
IngredientsFor the chicken
1 1/2 pounds boneless, skinless chicken (white and/or dark meat), cut into 1 1/2-inch chunks
1 tablespoon fresh lime juice
1 teaspoon chili powder
2 teaspoons garam masala
1 1/2 teaspoons salt
1/4 cup plain, full-fat yogurt
1 tablespoon minced garlic
1 tablespoon finely minced fresh ginger root
For the sauce
2 tablespoons canola or vegetable oil
1 yellow onion, finely chopped
4 medium tomatoes, hulled and chopped
1 teaspoon minced garlic
2 teaspoons peeled minced fresh ginger root
1 tablespoon Kashmiri chile powder (may substitute a combination of 2 teaspoons paprika and 1 teaspoon cayenne pepper)
1 tablespoon garam masala
1 teaspoon ground cumin
2 tablespoons salted butter
1/3 cup heavy cream
Steps
For the chicken: Preheat the oven to 400 degrees. Grease a rimmed baking sheet with cooking oil spray.Combine the chicken meat with lime juice, chili powder, garam masala, salt, yogurt, garlic and ginger in a mixing bowl, then spread evenly over the baking sheet. Roast (middle rack) for 15 to 18 minutes, until the chicken is just cooked through.Meanwhile, make the sauce: Heat the oil in a pot over medium heat. Once the oil shimmers, add the onion and cook for 2 or 3 minutes, until softened. Stir in the tomato; cook for 10 to 12 minutes.Use a spatula to press the sauce through a fine-mesh strainer back into the pot, or puree with an immersion (stick) blender right in the pot. Stir in the garlic, ginger, chile powder, garam masala and cumin until well blended, then add the chicken, stirring to coat it with sauce. Cook for 3 to 5 minutes, just until heated through.Just before serving, add the butter. Once it has melted, stir in the cream, until well incorporated. Immediately remove from the heat; serve warm.Nutrition | Per serving (based on 6, using white meat): 300 calories, 27 g protein, 7 g carbohydrates, 17 g fat, 7 g saturated fat, 110 mg cholesterol, 630 mg sodium, 2 g dietary fiber, 4 g sugar
(Except for the headline, this story has not been edited by NDTV staff and is published from a syndicated feed.)
His stroke of genius was this: How about using the tandoor? The cylindrical oven was common in the region, but it was normally used only for breads. "He marinated the chicken in yogurt, lime and spices and baked it in the tandoor. What came out was different than what anyone had ever tasted," Gujral says.The dish was a success that made Lal famous far outside his community, and after the partition of India and Pakistan in 1947, he moved to Delhi and opened Moti Mahal, where tandoori chicken is the signature dish.To say that the restaurant is an institution is somewhat of an understatement. When the Shah of Iran visited India in the 1950s, he was told that to visit Delhi without eating at Moti Mahal was like visiting Agra without seeing the Taj Mahal. Since then, the place has only grown in significance with the increased interest in Indian food, domestically and globally.As the inventor of the most popular dish from one of the world's most populous countries, Lal could just lean back and enjoy the fame, fortune and popularity his invention had brought him and his restaurant. But it was not enough, according to family legend. He also invented what might very well be the second-most-popular Indian dish."It was a direct consequence of the chicken tandoori," Gujral says. "At that time, refrigeration was a big problem. The chicken had to be cooked the moment it arrived from the market. And if it was not eaten immediately, it could get terribly dry." So Lal invented a generous sauce, with spices, tomato, butter and cream, into which he placed pieces of tandoori chicken. "And that was the birth of butter chicken," Gujral says, as both dishes arrive at our table, bright red and aromatic.And thereby the circle was closed. What started as a request for a lighter, more fresh-tasting dish in a kitchen of many heavy stews became the heaviest and mightiest of them all.The story of the sudden invention of such an iconic dish seems almost too much to be true. But according to Anubhav Sapra, street food explorer and founder of Delhi Food Walks and an expert on Delhi cooking, there is very little that contradicts it."Every mention of cooking chicken in a tandoor that I have seen comes from Peshawar and the North West Frontier Province, which is where Kundan Lal developed his recipe. And I have never seen a mention of tandoori chicken from the time before Kundan Lal. So it is quite probable that he actually invented it."Lal is unique in the importance that his culinary invention has had on Indian cuisine. But he was a part of a wider phenomenon, in which cooks from rural regions in what is today Pakistan came to Delhi and brought with them different cuisines, both traditional dishes and their own inventions."Take chole bhature - fried bread and chickpeas - a breakfast and lunch dish that is almost as popular as butter chicken, that also comes from Pakistan. But in that case we do not know the name of the person who brought it here," Sapra says.And that makes all the difference.Today, Gujral is the custodian of the family tradition. He knows he will never be able to stop other restaurants from copying his grandfather's recipes. Instead he has become an ambassador of Indian cuisine at large, with frequent TV appearances and several cookbooks, including "On the Butter Chicken Trail" and "Moti Mahal's Tandoori Trail." The Moti Mahal brand has grown to include more than 120 restaurants in India, plus franchises in the Middle East, Africa and New Zealand. The first U.S. restaurant is due to open in Boston in 2018 or 2019.When Gujral learned that I did not have a tandoor, he offered to give me one; modern-day versions are made from old oil drums clad with clay on the inside; not terribly expensive, but cumbersome to bring home without challenging the airline's baggage allowance.Luckily, Gujral feels strongly that the lack of a tandoor should not stop anyone from making tandoori chicken at home. He recommends cooking the chicken at 500 degrees, to achieve some - albeit not all - of the browning and intense heat normally associated with the tandoor (in which the temperature can reach well over 800)."If you have a decent domestic oven and follow my recipe, the result will be almost as good as the original, and much better than many of the copies you get at other restaurants," he says.Making it at home some weeks later, I could not agree more. I only wished I had remembered to turn on the kitchen fan.- - -Viestad is a farmer, writer and host of PBS's "New Scandinavian Cooking." He lives in Oslo, Norway.- - -