This Diwali, It's Ladoos Over Chocolates!
IANS | Updated: October 17, 2014 20:33 IST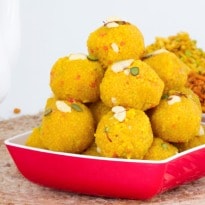 Despite stiff competition from attractively packaged and imported chocolates, traditional Indian sweets have not only managed to hold on to their own but have witnessed a steady rise in sales due to an expanding market estimated at Rs.49,000 crore ($8 billion), rising incomes and most importantly, the emotional value that is attached to them.

Sweets like kaju katli (made with cashew nuts), patisa (sweet flaky cakes of gram flour), mysore pak (small cakes made with butter, sugar and gram flour), badam halwa and gulab jamun are trending this festive season.

The fact that these sweets have a long shelf life is probably why they are being preferred. During Diwali, sweets are often bought in bulk to distribute them as gifts to friends and families. "All types of barfis, especially kaju barfi along with patisa and gulab jamun, are selling in good numbers as they are premium sweets and also have a long shelf life of about 15 days," says Deepta Gupta, Executive Vice President, Bikanerwala Foods.

He also acknowledged the rising market share of sweets like cookies, cakes, doughnuts and the latest rage - macaroons - that are being sold by several upscale bakeries all over the city and have particularly caught the fancy of youngsters who may find the traditional Indian sweets boring. "But the market is expanding and there is space for everyone. Moreover, the branded sweets market has increased by around 30 percent this Diwali season as compared to last year," Gupta added.
Bipin Sareen of Mumbai-based Mithaivala.in also agrees that sales are headed north but unlike Bikanervala, which is a renowned brand, he has to walk the extra mile to ensure that the cash registers keep ringing. "Apart from the traditional sweets, we also deliver other items like baklava (sweet pastry of filo filled with chopped nuts) and fruit katli," says Sareen.

Sareen admitted that traditional sweets have continued to drive the sales helping his site register a whopping 200 percent rise in sales this season. "Moreover, laddoos have a special emotional bond with Indians and they form are a part of our culture as compared to chocolates," he added.

Despite high demand, India's traditional sweets market remains largely unorganized and constantly faces threats from rising prices of key raw materials like milk, butter, sugar and dry fruits. Therefore, many resort to the use of inferior or adulterated ingredients and in some cases, they may even use chemicals to keep the costs down.

According to D.S. Rawat, Secretary General of the Associated Chambers of Commerce and Industry of India (Assocham), adulteration of traditional sweets is the primary reason that drives consumers to opt for alternatives. "Adulteration in traditional sweets is eroding consumers' confidence that fuels the demand for chocolate and other modern sweets during festivals," Rawat claimed.

According to Assocham, India's sweet and snack industry is estimated at about Rs 49,000 crore and has been growing at a compounded annual growth rate (CAGR) of 10 percent. On the contrary, India's chocolate industry is growing at a CAGR of about 25 percent and id currently worth about Rs 5,000 crore.

This diwali, we suggest you think out of the box of chocolates and bring home some old favourites.