My gluten free journey began much before my son, Mannat, was diagnosed with
Celiac
. Amidst my regular baking, there were certain days I would dedicate to trying my hands at baking gluten free desserts. Little did I know that those were my trial sessions and that I would be making many more
gluten free treats
in the days to come.
Gluten free desserts can be broadly categorised into four types -
1. Natural Gluten Free Desserts: like Macaroons, Meringues, Parfaits, Fruit Fools, Mousses and Pavlova.
2. Flourless Desserts: like Chocolate Cake, Peanut Butter Cookies, Molten Lava Cake and Molten Cookies.
3. Gluten Free Flour Desserts: The best flour to use is a blend of at least three flours that contains enough starch. All desserts can be made gluten free with the flour blend. The most important thing is the quality of the flour blend and if it is certified 'gluten free'. High in starch blends result in very stiff products.
4. Ready to Eat Desserts: like ice-creams, gelatos and yoghurts. These are the most risky as you think they can't have gluten in them. Remember, there is hidden gluten in stabilisers and thickeners. Have only those stamped as 'gluten free'.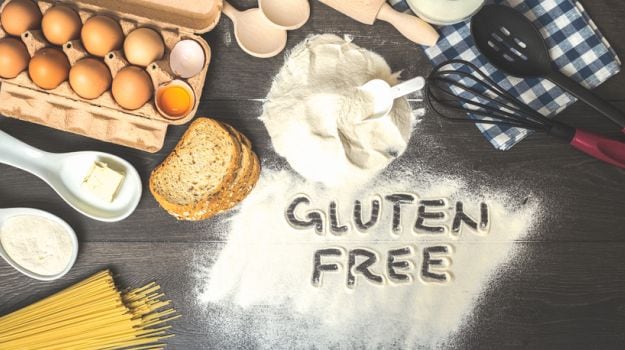 The point to remember is that while some of these desserts may be available in the market and cafes, if the facility isn't 100 percent gluten free, they will have cross contamination. The problem is that while they are claimed to be flourless, some still have a bit of flour or baking powder/cornstarch that isn't gluten free.
As such, if you are intolerant to gluten, biting into those sweet treats can be harmful to your health. So be extremely careful and recheck before you purchase items. Or, to go the easier route, roll your sleeves up and get down to some gluten free baking at home.
Here are some recipes to get you started:
1. Meringue Kisses with Chocolate Ganache
Ingredients:
300 gm caster sugar
6 egg whites
1/4 tsp (pinch) cream of tartar
1 tsp vanilla extract
1/4 tsp salt (optional)
50ml double cream
50gm chocolate chips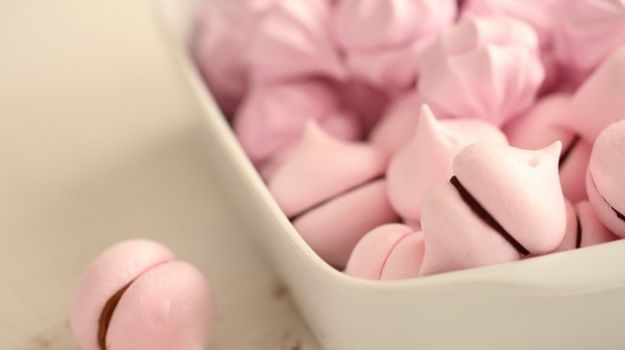 Method:
For the Meringue Kisses
Preheat your oven to 110C. This is a very low temperature, so make sure that you have an oven thermometer to ensure that your oven is not overheating.
Whisk egg whites with an electric whisk or in a stand mixer until foamy. Add vanilla. Whisk.
Add cream of tartar. Whisk. If adding salt, mix it in too. You will see the consistency start to change as soon as you add cream of tartar.
Now add the sugar, a little at a time, until the mixture is stiff and glossy. This whole process takes around 5 to 6 minutes.
Divide the mixture in bowls and add a tiny touch of the colour of your choice. Choose pastel light colours. In order to get a darker shade, you will need to add a lot of colour, which in turn will affect the consistency of your meringue.
Spoon the mixture in a piping bag with a large pipping nozzle of your choice. Line the baking sheets with parchment paper.
Pipe the meringue kisses no large than around 2cm in diameter. These need to be even in size so that they bake evenly. Bake in a preheated oven for 2 hours. They should be crisp and dry to the touch. Cool completely before sandwiching together with ganache.
For the Ganache
Heat cream over very gentle heat. Remove pan from heat, allow cream to cool slightly.
Add cooking chocolate chips. Stir and leave for a couple of minutes before stirring in completely until all the chocolate dissolves. If you think it is too runny, add more chocolate. If it is too stiff, add a touch more of warmed cream.
Ganache will reach piping consistency when it cools.
2. Chocolate Espresso Cake with Café Latte Cream
Inspired by Nigella Lawson's recipe, this Chocolate Espresso Cake with Caffe Latte Cream is gluten free, where I have replaced the flour and added a bit of xanthum gum.
Ingredients:
150gm cooking chocolate, chopped
150gm butter
6 eggs
250gm caster sugar
1 tsp vanilla extract or rum
75gm gluten free flour
1/2 tsp xanthum gum
5 tsp instant espresso
4 Tbsp Tia Maria or any coffee liqueur
For the Café Latte Cream
75g white chocolate, broken into very small pictures
375ml whipping cream
2 tsp instant espresso powder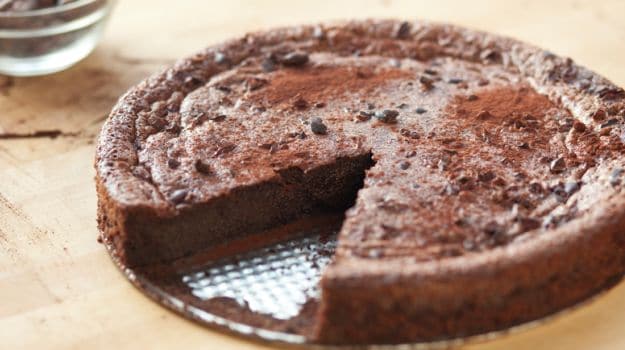 Method:
Preheat the oven to 180 degree C.
Grease a spring foam cake pan (important as the cake cannot be taken out upside down; it is too soft)
Everything should be at room temperature. Melt the chocolate and the butter on a double boiler. Keep it aside and let it cool.
Beat the eggs, sugar and vanilla until thick, pale and mousey. Ideally use a free standing mixer for this.
Gently fold in the sieved flour, baking soda and coffee mixture, taking care to not lose the air you have created. Finally add the melted chocolate and butter, folding gently again.
Pour and bake for 35-40 minutes, the top of the cake will be firm but the bottom will still be a bit gooey.
Immediately pour the liqueur all over the cake and allow it to cool completely before releasing it from the tin.
For the cream, just melt the white chocolate on a double boiler and let it cool. Fold in the cream, and using a whisk, continue whipping till it becomes thicker.
Dust the cake with cocoa powder and serve with the cream.
Tip:
Preheat the oven properly otherwise you might end up with an over baked cake.
Don't be sacred if the cake breaks from the sides a bit.
3. Flourless Peanut Butter Chocolate Chip Cookies
My family and I love going to The Hamptons, USA. My favourite bakery in South Hamptons is called Tate's Bake Shop. They have the best flourless peanut butter cookies in the world. This recipe is inspired from them.
Ingredients:
1 1/4 cups peanut butter, chunky or smooth
3/4 cup firmly packed light brown sugar
1 egg
1 tsp baking soda
1/2 tsp vanilla extract
1 cup chocolate chips or chocolate chunks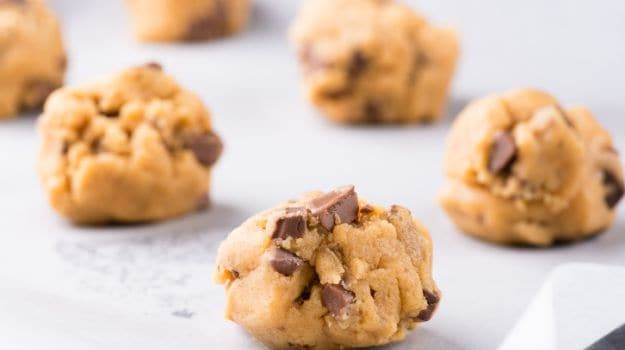 Method:
Preheat the oven to 350 degrees.
In a large bowl, mix the peanut butter, sugar, egg, baking soda and vanilla extract until it is smooth and creamy. Stir the chocolate chips or chunks.
Make small balls with the cookie dough and place them on two ungreased cookie sheets.
Bake the cookies 12-15 minutes, depending on the size you made them or until they are puffed and golden on the bottom. They will still be soft in the center. Cool them on the cookie sheets for a few minutes and then transfer them to a wire rack till they are completely cool.
4. Gluten Free Chocolate Pound Cake
Ingredients:
150 gm unsalted butter
100 gm cream cheese
1 1/2 cup brown sugar
2 eggs plus 2 egg yolks
1 Tbsp vanilla extract
1 cup gluten free all purpose flour
1/2 cup cocoa powder
1 tsp soda
1 tsp salt
1/2 cup cream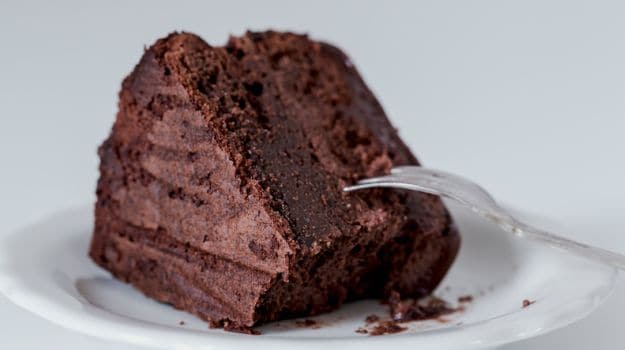 Method:
Prepare a loaf tin or a bundt pan with some butter.
Preheat the oven to 95 degree C.
In a free standing fixer, blend the cream cheese, butter and sugar. Add eggs one at a time along with the vanilla extract.
Whisk the dry ingredients flour, cocoa powder, salt and soda.
Add the flour mixer in three batches and finally add the cream.
Bake the cake for 20 minutes at 95 degree C, then increase the oven temperature to 120 degree for 20 minutes, then to 135 degree for 10 minutes and finally to 145 degree C for 10 minutes. Remove from the oven once the tester comes clean.
Tip:
Everything must be at room temperature including the cream cheese.
"STRESSED spelled backwards is DESSERTS". Enjoy your gluten free desserts but always wear your gluten free detective cap.About the Author:
Aarti Sarin Jain is an avid baker and runs an exclusive gluten-free test kitchen. She discovered the joys of a gluten-free living after her elder kid was diagnosed with Celiac Disease. She often experiments with new forms and varieties of gluten-free food without compromising either on taste or quality. You can read more on her blog, www.bakingfrommyheart.com.
Disclaimer:
The opinions expressed within this article are the personal opinions of the author. NDTV is not responsible for the accuracy, completeness, suitability, or validity of any information on this article. All information is provided on an as-is basis. The information, facts or opinions appearing in the article do not reflect the views of NDTV and NDTV does not assume any responsibility or liability for the same.