Tipsy turkeys: Birds fed beer for flavor, size
Associated Press | Updated: November 08, 2013 13:54 IST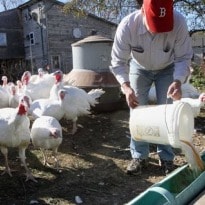 You've probably heard of beer-battered fish and beer-can chicken. But how about beer-fed turkey?

Joe Morette of Henniker, N.H., is raising about 50 Thanksgiving turkeys this year. He's been feeding his birds beer since 1993, when a turkey knocked over a can left near its fence and started drinking.
The way Morette sees it, beer bellies aren't just a human phenomenon, and he insists the beer makes birds fatter, more flavorful and juicier. He prefers to feed them lagers over light beer, but takes what he can get.

Carl Majewski with UNH Cooperative Extension says the beer doesn't hurt the birds, and probably does affect their size and flavor to some degree. But juiciness is more a matter of how you cook the birds, not what they drink.