Turkey
, gravy, cranberry sauce, sweet potatoes, cornbread, pumpkin, pecan and sweet potato pies... Think Thanksgiving and these are the images that come to mind. Thanks to the globalisation of the palate, these are no longer unfamiliar flavours and even in India, we may aspire to cook up a feast and thank the good lord for all the bounty.
Thanksgiving
of course is not really a global festival. It is not really a "festival" either. It is a
holiday
that has been celebrated in the United States since 1863, from during the time of the Civil War. Abraham Lincoln is credited with institutionalising it. But much of the rituals surrounding the day — cooking with the family, carving up turkey on the table — borrow from much older European
traditions
surrounding Christmas.The goose was a bird served up as a
roast
and delicacy in the colder climes of northern Europe. That was the family meal during Christmas. But in the New World, where the goose wasn't to be found that easily, a new bird replaced it.
Turkey
was plentiful and could be offered as a substitute.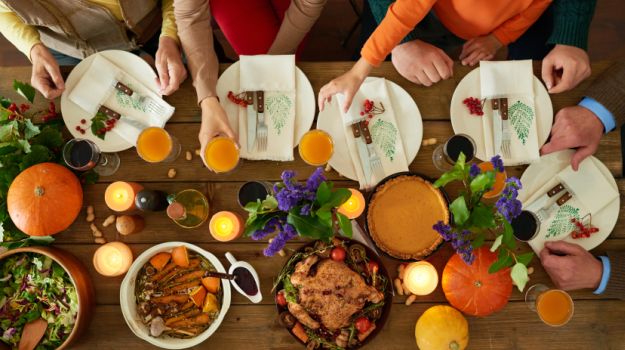 A Thanksgiving family feast
This year, trends suggest that the Millennials in the United States may be replacing their traditional Thanksgiving meal with healthier — or at least different — options. One article suggests pork or
vegetarian dishes
on the table and instead of it being a strictly family affair, friends may be joining in increasingly.But in India, many of us may want to do what American families supposedly do — at least those we see on TV sitcoms. One of my favourite episodes of Friends, for instance, is in which Monica cooks the turkey for the gluttonous Joey and others. Watching all such shows you (hopefully) realise that going the whole hog and doing an entire stuffed turkey at home may be more than what you can handle — both as far as eating and
cooking
goes.For the last few years, gourmet stores in the Indian metros have been reporting stellar sales of Butterballs, procured especially for this season (till Christmas). But if you have any thoughts of buying an
entire bird
, some caution is needed. It may be infinitely easier to choose cuts of meat that you can handle rather than roasting whole, which also requires expert baking skills.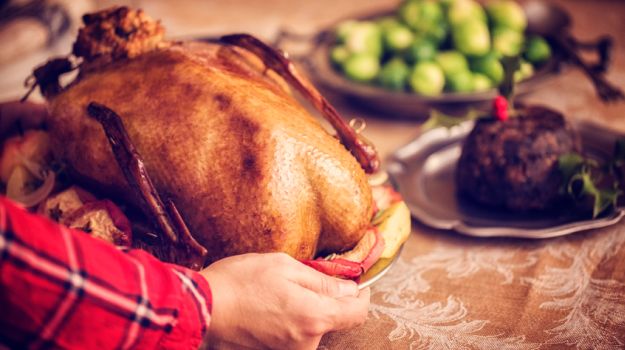 Roast turkey
Domestic ovens can only do so much. Chefs suggest buying turkey breast and stuffing this with inventive fillings that could include things like nuts and raisins plus also some mince (
chicken
or pork). You would need to cover the entire meat in a silver foil and roast at 180 degree C. The cover prevents charring; once the meat is cooked, you could remove it and allow for a little browning.Drippings from the meat could go into gravy, you could also use a host of fresh winter veggies, including sweet root veggies like
carrots
, into the gravy. You could spice this up with Tabasco and ginger and garlic if you so want and add a dash of red wine. Plus you could do a berry-based sauce on the side instead of trying to hunt for imported cans of cranberry. Just make a marmalade of orange or cook berries like fresh strawberries in sugar to make the compote.Or you could abandon the whole turkey business and cook up some
tandoori chicken
instead — our own indigenous roast — though typically it needs a
tandoor
on the terrace or balcony!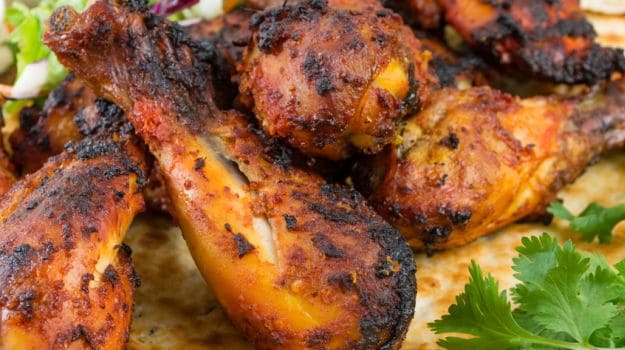 The quintessential Tandoori Chicken
Chicken roasts
enjoyed their brief popularity in India with the British influence. Till then, chicken was not really a bird anyone ate. High-caste Hindus considered it a scavenger and thus the meat "unclean" and Muslim cooking preferred red meat. Birds like quail and pigeon were delicacies even though roasting as a technique neither popular nor common.The
tandoor,
our indigenous oven, only gained popularity post Partition, when enterprising migrants used it to cook
chicken
bits instead of just baking
roti
for entire villages in their community ovens. Things have changed so much since then.
Tandoori
may as well be one of India's national cuisines. And the constant exchange of ideas and influences, and the globalisation of the palate may well mean
tandoori
turkey hitting the charts sometime!Till then, enjoy the day!Here's a recipe to help you – Roast Turkey with Cranberry Sauce. Click
here.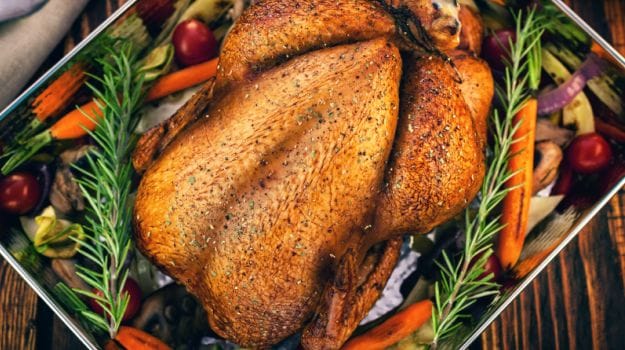 Disclaimer:
The opinions expressed within this article are the personal opinions of the author. NDTV is not responsible for the accuracy, completeness, suitability, or validity of any information on this article. All information is provided on an as-is basis. The information, facts or opinions appearing in the article do not reflect the views of NDTV and NDTV does not assume any responsibility or liability for the same.