World's Largest White Truffle Sells for $61,250!
Associated Press | Updated: December 08, 2014 14:01 IST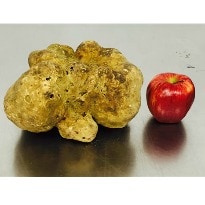 Record 4.16-pound truffle sells for $61,250 in NYC

A record-setting 4.16-pound (1.89-kilogram) white truffle has sold for $61,250 at a New York City auction. Sotheby's says the fungus was sold to a food and wine lover from Taiwan bidding by phone.

The truffle was found last week in Umbria, Italy, by Sabatino Truffles. The firm had said it turned down million-dollar offers from buyers in China. Instead, it chose to auction the truffle in New York to benefit Citymeals-on-Wheels and the Children's Glaucoma Foundation.

Sabatino Truffles spokeswoman Jane Walsh had said the truffle was slightly smaller than an American football. She says the average white truffle that's unearthed is about the size of a walnut.
Sotheby's says the previous largest white truffle ever found was 2.5 pounds (1.13 kilograms).

Image Credit: AP Photo/Sotheby's Auction House, File