Yucca flower gratin. Credit: Copyright 2016 Wendy Petty

With its widely recognizable dagger-sharp leaves, the yucca plant (Yucca spp.), offers up a particularly tasty food in its flower petals. Yucca, not to be confused with yuca (Manihot esculenta), is native to arid regions of the Americas, and is popular as a water-wise ornamental plant elsewhere.
In traditional dishes, yucca flowers often appear paired with eggs. The flavor of yucca flowers is akin to artichoke, which makes them an interesting springboard for cooking. In an attempt to re-create the flavors of stuffed artichoke, I've found it worthwhile to serve yucca flowers as a gratin topped with a crunchy layer of seasoned bread crumbs.
When harvesting yucca flowers, select ones that are newly opened and appear unblemished. Pass over any flowers that are wilted or appear to have been taken over by insects. Foraging wild foods is not unlike selecting produce at the market in that you look for foods that are in good condition. You can pick more than one yucca flower per plant, as it won't cause significant damage. Yucca is a sturdy plant with a large taproot. Keep in mind, however, that certain animals feed on yucca flowers, and they are a habitat for yucca moths. I like to shake each flower after I've plucked it to free any moths that might be inside.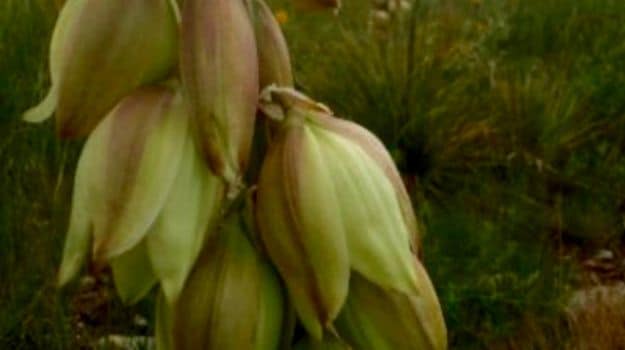 Yucca flowers. Credit: Copyright 2016 Wendy Petty

Yucca flowers can cause throat irritation in some people if eaten raw, so it's likely best to use them in cooked preparations, particularly if you are new to the plant as a food. Traditionally, yucca petals are removed from their reproductive parts. To prepare yucca flowers for cooking, simply strip the petals from the pistil and stamen.



For a girl growing up in a hot stretch of the prairie in the Western United States, yucca plants were always a part of the tableau. As a kid, I learned early on to play carefully when there were yucca and cacti around, so as not to get hurt. It wasn't until I was an adult and began foraging in earnest that I discovered those plants that were as familiar to me as the backs of my hands were also edible.





I've been working with my own local yucca, Yucca glauca, also known as Great Plains yucca, for many years, especially enjoying the flowers. Unlike some species of yucca, Great Plains yucca develops nonfragrant flowers, the petals of which are quite waxy in texture when raw. I've enjoyed the flowers of yucca in more traditional preparations with eggs, as well as in soups and stir-fries. Until recently, my favorite way to prepare yucca flowers has been to steam the petals, and then preserve them as one would an oil pickle like artichoke hearts.





This year, while reading an older cookbook about Mexican herbs, I caught sight of one short sentence that instructed to add a spoonful of flour to steamed yucca flowers, and pan-cook the mixture as patties. I tried this method and was slightly off-put by the glueyness created by the flour. However, the flavor of the yucca in flour, particularly where it had browned, was undeniably good.





The next day, I took the recipe in a slightly different direction. I seasoned steamed yucca petals well with salt, pepper and onion powder. Then, instead of adding flour and attempting to make cakes, I added dried bread crumbs, and put the crumble into a hot pan coated with some oil. Once browned, the yucca and bread crumb mixture was easily the best yucca preparation I'd tasted. The flowers were still succulent and sweet, and their slight bitterness was enhanced by extra savory flavors added through the golden bread crumbs. This preparation of yucca flowers can be used in a number of ways. It's good enough to stand alone as a side dish, and it makes an excellent pasta topping. My favorite way to use yucca flowers sautéed with bread crumbs is to make quesadillas with queso Oaxaca.





I've also used the crunchy bread crumb and yucca combo successfully in a dish that comes as close as I can to turning yucca into stuffed artichoke -- yucca flower gratin. You can always tell I've been binge-watching Jacques Pepin when I have the urge to stuff all of my wild edible plants into a gratin. Nobody at my table complains, however, because gratins are both classic and a tastebud-friendly way to serve foraged produce.





Yucca Flower Gratin





Prep time: 30 minutes
Cook time: 15 minutes
Total time: 45 minutes
Yield: 4 servings





Ingredients





6 cups yucca petals
1 1/2 cups fresh bread crumbs
1 shallot, minced
1/2 cup finely grated Pecorino Romano cheese
3 teaspoons chopped fresh herbs such thyme, parsley and chives
1/4 teaspoon garlic powder
3 tablespoons olive oil, divided
1/8 teaspoon salt
1/2 cup finely grated Pecorino Romano cheese





Directions





1. Begin by steaming the yucca petals just until they turn translucent and pale green, 1 to 2 minutes. Let them cool to room temperature.





2. In a bowl, combine the bread crumbs, cheese, herbs, garlic powder, salt and a little freshly ground black pepper using a fork. Add 2 tablespoons of oil and continue stirring the mixture until the all of the bread crumbs appear to have been coated with the oil.





3. Heat a skillet over medium. Add the remaining tablespoon of oil. Sauté the minced shallot for 1 minute, then add the steamed yucca petals and a sprinkling of salt.





4. Add a large handful of the seasoned bread crumbs to the yucca petals, about 3/4 cup, and continue cooking the yucca, stirring frequently and scraping up stuck bits as needed, until they take on a deep medium brown color. Because the yucca is already cooked, you are simply looking to add a layer of flavor through the browning achieved by the Maillard reaction.





5. Remove the yucca from the heat. Evenly divide the browned yucca between four lightly greased 8-ounce ramekins. Top each ramekin full of yucca with what remains of the seasoned bread crumbs.





6. Place the ramekins under the broiler of an oven just until the bread crumbs turn an irresistible shade of brown, 3 to 5 minutes. Let cool for 5 minutes before serving.

© Thomson Reuters 2016



(This story has not been edited by NDTV staff and is auto-generated from a syndicated feed.)