One of the contemporary trends in the world of fitness is a departure from gym equipment and machines toward activities that involve the human body to a larger extent. Body-weight exercises are now becoming increasingly popular with fitness enthusiasts. Not only is it challenging but extremely exciting as well. Body-weight training is probably the best way to exercise your entire body - you are in total control of yourself and you can explore the limits of your body too. It will amaze and thrill you, making you want to challenge yourself further. When it is you against yourself, you are literally competing with your own shortcomings such as lack of flexibility, balance, weakness in muscles, etc.
Today, we will talk about a body-weight exercise that most desire to master. Getting into a handstand is difficult. More than anything else, it is the fear and inhibition attached to doing the exercise that keeps many people from trying it and nailing it to perfection. Before we go on to talk about the benefits of doing a handstand and how to do it safely, you must keep in mind the fact that any posture that requires your body to be in an inverted or an upside-down state will require balancing. It will reverse the flow of blood in your body, therefore people suffering from brain injuries, spinal issues and high blood pressure should not try attempting a handstand or any inverted postures like a shoulder stand or a headstand.
How to Do a Handstand
1. You must take the support of a tree or a wall.
2. Make sure that you attempt it in a spacious environment.
3. Never do it unattended or without a supervision.
4. Get onto your knees and hands.
5. Bring yourself closer to the wall with your face in the opposite direction.
6. Now, slowly start crawling back on the wall till your body comes in a straight line.
In the beginning, you will realise that you need the support of the wall. You can ask a friend or your instructor to gradually start taking your feet off the wall and help you achieve an independent handstand. While you try to get into an independent handstand, keep the following things in mind: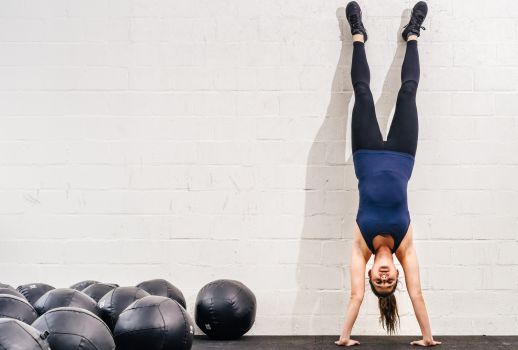 Begin by taking support from the wall
Thing to Keep in Mind
Focus on your body and try balance your entire body. Without balancing, you will continue to struggle to do a proper handstand.
Try and keep your feet and legs together. Keeping them apart will require your mind to focus more and will make it difficult to balance.
Always use your core strength to maintain balance.
Never come down instantly, it may lead to injuries.
Don't practice on a full stomach.
Lie down and relax for an equal amount of time for which you held the posture.
Don't sit or stand immediately.
Relax, it doesn't come easy, keep at it, you will get there.
(Also Read:
The Core Issue: Why Crunches Won't Give You a Flatter Tummy
)
Benefits of a Handstand
The posture reverses the blood supply which helps in blood purification.
Increases concentration and focus. Improves balance.
Relaxes the nervous system.
Strengthens immunity.
Improves bowel movement.
Checks breathlessness.
Improves skin.
"Headstand is excellent for brain healing. If practiced regularly, it can help prevent risks of most incurable mental disorders such as Alzheimer's. While you are in the posture, the pituitary gland situated in the middle part of the brain gets activated. It also activates the secretion of two essential hormones - serotonin and melatonin - one of them is only released in the state of sleep. The posture has a very meditative and relaxing effect on the body as well as the mind," says Yogi Anoop, from the Chaitanya Foundation, Mediyoga.
Handstand should be followed by the shoulder stand, half and full headstand. It is important to relax after you get out of the posture.