Iron in Red Meat can Damage Your Heart!
IANS , New York | Updated: February 04, 2015 12:16 IST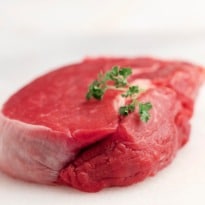 Replacing red meat portions in your diet with vegetables may be a good recipe for your heart as scientists have now discovered a strong association between heme iron, found only in meat, and potentially deadly coronary heart disease.

There are two forms of dietary iron: heme and non-heme. The study found no association between non-heme iron, which is found in plants and other non-meat sources, and coronary heart disease. Heme iron consumption increased the risk for coronary heart disease by 57 percent, the study warned.

"Heme iron is absorbed at a much greater rate in comparison to non-heme iron (37 percent vs. five percent)," said the researchers from Indiana University in the US.

Once absorbed, it may contribute as a catalyst in the oxidation of LDLs (Low-density lipoprotein or bad cholesterol), causing tissue-damaging inflammation, which is a potential risk factor for CHD, they noted. The body can better control absorption of iron from vegetable sources, including iron supplements, but not so with iron from meat sources, showed the findings of the research.

For the study, the researchers examined 21 previously published studies and data involving 292,454 participants. The study appeared in the Journal of Nutrition.