We spend the longest of our waking hours in office and this is the time when we tend to binge on anything fried or fattening that comes our way. Excessive intake of junk foods could negatively impact our heart health in a significant way. It is important to invest daily in small doses to protect one of the most vital organs of our body. Recent research has shown an alarming rise in risk factors of heart diseases in the younger generation of office goers. High cholesterol, pre diabetes and diabetes, obesity and high blood pressure, all of these are linked and affected by the same dietary factors. Hence, simple changes and mindful eating can go a long way in protecting you from onset of heart diseases.
Here Is A List Of 5 Heart-Healthy Diet Tips To Follow In Office
Healthy And Balanced Diet
A diet with whole grains, legumes, vegetables, nuts & seeds, fresh fruits, low in salt and sugar is what we need. A balanced and healthy diet provides us with all the nutrients that are heart healthy. Fibre, particularly soluble fibre, is associated with lowering of blood pressure and LDL (bad) cholesterol, thereby protecting the heart. Soluble fibre is found in oatmeal, fruits like apple, citrus fruits and in legumes. Fibre adds to the bulk of the meal and promotes early satiety, helping control obesity, which is another risk factor for heart diseases. Insoluble fibre is abundantly present in whole grains, vegetables and tomatoes. All whole grains, vegetables, fruits and legumes are sources of antioxidants, phytonutrients that reduce the risk of heart diseases by scavenging free radicals. Vitamin C, vitamin E, beta-carotene and selenium lead the pack. Research has also found that when these are consumed in the form of food, they work better than supplements. Healthy combination of oils like peanut, sunflower, rice bran, mustard and til oil provide heart healthy monounsaturated fats. Consumption of omega-3 oils from fatty fish, at least 2 times a week, works wonders for heart health. Eggs, lean meat, chicken breast taken in moderation with a healthy balanced meal add flavour and quality proteins along with important minerals.


(Also Read: Balanced Diet Chart: A Complete Guide To Healthy Eating)
A balanced and healthy diet provides us with all the nutrients that are heart healthy​
Snacking On Fresh Instead Of Processed Foods
The place where we slip up, especially in office, is snacks. Ready-to-eat, highly processed, laden with sodium and sugar is what is easily available. Sensible snacking can cut out a lot of empty calories and add a lot of nutrients to your diet. Fruits are the easiest and healthiest snack to carry along. One in the midmorning and another when you are travelling home will help alleviate your tiredness by providing energy and electrolytes and your hunger will also be under control. Nuts and seeds provide fibre, protein, healthy fats and satiety. Keep a handful of almonds, one walnut and a teaspoon of seeds for snacking when hungry.


Roasted chana with skin and no salt, popcorn without butter, are good table-top snacks to store. Both provide a lot of fibre and chana provides protein too. Other snacks you could carry along would be vegetable sticks with two tablespoons of peanut butter for a dip, homemade poha and upma, idli, sprouts etc.
Stay Hydrated
Hydrate well as it helps muscles work more efficiently. Dehydration makes your heart pump harder. Water is the best way to stay hydrated; drink at least 35mls/kg body weight and in summers you can take it up to 40-50mls/kg body weight. Other calorie-free healthy drinks include sugar-free fresh lemon water, fresh coconut water, vegetable juices, and chaas. Fresh fruit juice is also a source of extra sugar, so go for whole fruits instead.


(Also Read: 8 Most Hydrating Drinks Besides Water)
Hydrate well as it helps muscles work more efficiently


Photo Credit: iStock
Limit Sugar Consumption
Sugar consumption in excess can lead to obesity, which is a major heart risk. So when you need coffee or tea, avoid the machine version as it has sugar dissolved in it along with creamers. Try to make the instant one with fresh milk instead of creamers. Stick to 6 teaspoons of added sugars per day. Sugar also sneaks in with syrups, ready-to-eat breakfast cereals, fruit juices, so stick to fresh produce rather than processed foods.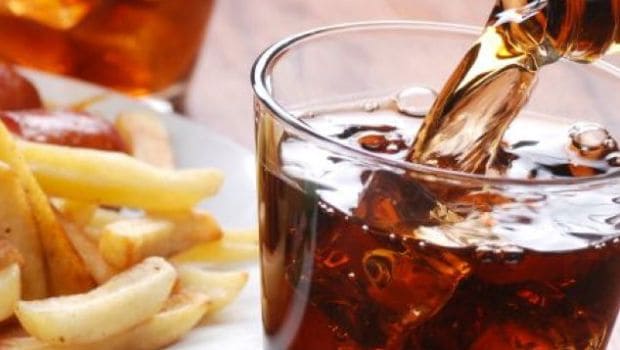 Sugar consumption in excess can lead to obesity, which is a major heart risk
Exercise
Try to remain physically active in office too. Take the stairs, walk to the water cooler, take a short stroll at lunch breaks or better still take out 30 minutes daily for a good workout.


Ideally, every organisation should facilitate a healthy environment for its workers and this can be done by just providing healthy snacks, exercise opportunity and facilitating fresh drinks instead of the vended ones.


Disclaimer: The opinions expressed within this article are the personal opinions of the author. NDTV is not responsible for the accuracy, completeness, suitability, or validity of any information on this article. All information is provided on an as-is basis. The information, facts or opinions appearing in the article do not reflect the views of NDTV and NDTV does not assume any responsibility or liability for the same.

About Rupali DattaRupali Datta is a Clinical Nutritionist and has worked in leading corporate hospitals. She has created and lead teams of professionals to deliver clinical solutions for patients across all medical specialties including critical care. She is a member of the Indian Dietetic Association and Indian Association of Parenteral and Enteral Nutrition.