Almond Milk(Badaam Milk)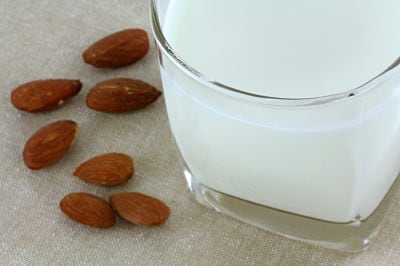 Hindi Name: Badaam Milk


Almond milk is a beverage made with ground almonds. It is often used as a substitute for cow's milk for those who are lactose intolerant or follow a vegan diet. It doesn't contain any animal products. It can also be prepared at home by grinding almonds with water in a blender. Almond milk is slightly pale pinkish or yellowish in color. It has a creamy texture and a nutty taste.

Usage

Almond milk can be used as a refreshing drink. It can also be added in soups, for baking, in puddings and ice cream. Almond milk comes in various flavors like chocolate, vanilla, etc.

Nutritional Value

1. This is very low in saturated fat , cholesterol, calories.

2. It is also a very good source of Vitamin A, Vitamin D, Vitamin E and Calcium.

3. Almond milk has less protein than cow's milk and other animal milk substances.

4. With the power of Vitamin E, it also fights from free radicals and organic molecules that are responsible for aging.
Recipes using Almond Milk