Baby Corn(बेबी कॉर्न)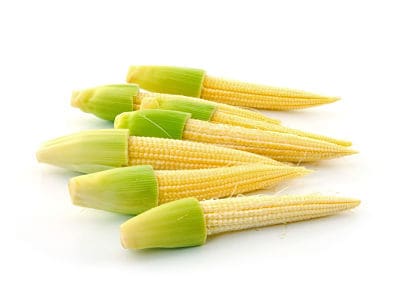 Hindi Name: बेबी कॉर्न


A miniature version of the corn plant, it's very popular in Thai and Chinese cooking. Baby corn is taken from corn when its very small and immature. It is actually a grain from corn which is harvested early before it matures. It is eaten both raw and cooked. It is usually 4.5 to 10 cm in length.

Nutritional Value

Corn is a rich source of many essential nutrients and fiber making it a staple cereal in many countries. It is a high calorie food. It is a rich source of Vitamin C. It also contains vitamin A and vitamin C.

A lot of dietary fiber is found in baby corn which helps to prevent constipation and colon cancer. It also contains vitamin B which helps in the metabolism of food and helps to produce new cells.

Did you Know?

In United States, Florida is the number one producer of baby corn with California ranking second.

Baby corn has to be used or frozen immediately after purchase for maximum freshness.