Balsamic Vinegar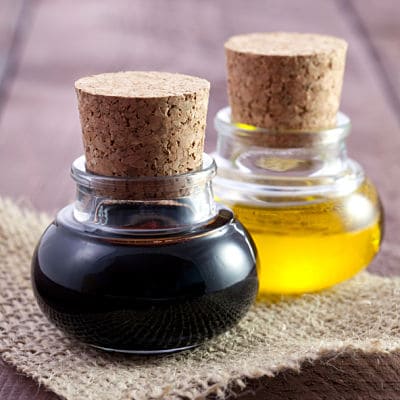 Made from grape juice or grape must, balsamic vinegar has been in use since the middle ages. The dark-brown syrupy vinegar was originally produced in the Modena and Reggio regions of Italy. It has a slightly sweet-sour taste that adds a special flavor to dishes while cooking. The must is allowed to age in different wooden barrels allowing the vinegar to obtain the flavor of different woods.

Balsamic vinegar shouldn't be confused for wine vinegar since the grapes used here are unfermented. The unfermented grape juice is called a must.

Types

There are three types of Balsamic vinegar:

Traditional Balsamic Vinegar is made from pressed Trebbiano grapes. The thick syrup is aged for a minimum of 12 years. The syrup is transferred into seven barrels. This vinegar variety is glossy and has a deep brown color, with a balanced flavour of sweetness and sourness from the cooked grapes.

Commercial grade balsamic vinegar is produced on an industrial scale, where the aging period is less than 12 years.

Condimento balsamic vinegar is a hybrid variety of the above two varieties. This variety is made of wine vinegar with an addition of flavouring and colouring agents. They are left for ageing for two months to three years.

Usage

Balsamic vinegar is used as a flavouring agent for meat, desserts, figs, panna cotta and many more.

Nutritional Value

1. Early Italians used balsamic vinegar as a medicine from headache to serious illness.
2. Balsamic vinegar helps stabilizing blood cholesterol levels.

Did you know?

Balsamic vinegar was earlier used as a digestive aid meant for sipping after meals.
Recipes using Balsamic Vinegar