Barfi(बर्फी)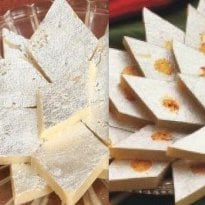 Hindi Name: बर्फी

A very popular Indian dessert, it is commonly cut into cubes, triangles or diamond shapes to serve. The most common preparation method is to thicken milk with sugar and other spices, spread out in a shallow dish and cut to desired shapes and sizes. These are often decorated with pieces of silver leaf which is edible and flavored with fruit.

Types

Cashew nut barfi: Kajoo barfi
Thickened milk barfi: Malai barfi
Bengal gram flour barfi: Besan barfi
Pistachio barfi: Pista barfi
Fig barfi: Anjeer barfi
Saffron barfi: Kesar barfi
Walnut barfi: Akhrot barfi
Carrot barfi: Gajar barfi
Gooseberry barfi: Amla barfi
Banana barfi: Kela barfi

Did you know?

This dish derives it's name from the Persian word 'barf' which means snow since they are similar in appearance. This is the reason its served cold.