Cabbage(पत्तागोभी/बंदगोभी)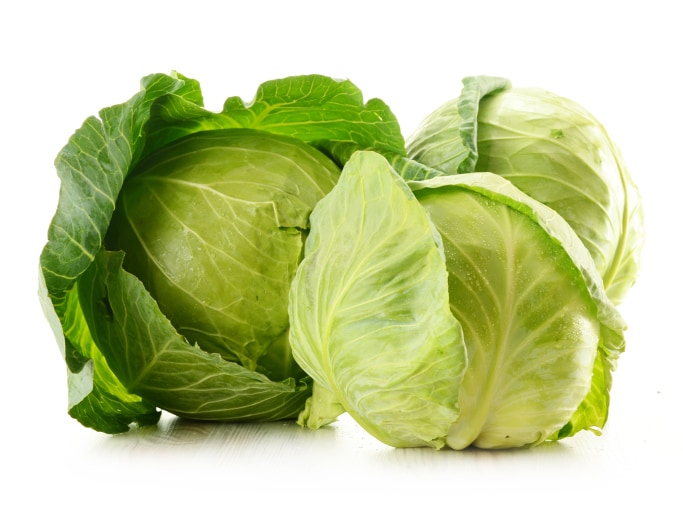 Hindi Name: पत्तागोभी/बंदगोभी

A round, layered, leafy vegetable that is eaten raw or cooked. It is round in shape and has layers of superimposed leafs. It is related to crops such as broccoli, cauliflower and brussel sprouts and can be green, white or purple. Its earliest cultivation is known to be in Europe. It is widely produced in China and India. In fact, of the world cabbage production as of 2010 almost half were grown in China. It is a good source of vitamin C, beta carotene and fiber.
Types
Savoy is the type of cabbage that has curly leaves and a mild flavor. Spring greens are loose headed and are commonly steamed. Green cabbage is the most widely grown cultivar that is used for cooking. For pickling, red cabbage is used. White cabbage is smooth and has pale green leaves. It is used often in salads.
Usage
Cabbage can be eaten raw or can be used in creating various dishes like kimchi in China or coleslaw in USA. It is prepared by boiling, stewing or sauteing and is commonly preserved by pickling. Smooth leaf cabbage are preferred for cooking whereas savoy cabbages are added to salads.
Nutritional value
1. Cabbage is an excellent source of vitamin C and vitamin A.
2. It is very rich in polyphenols, a type of antioxidant that helps fight against cancer. The antioxidants called anthocyanins in red cabbage are both cancer fighting and anti inflammatory.
3. Its anti inflammatory property helps prevents arthritis, strokes, Alzheimer's, cancer and other inflammation related diseases.
4. One of the best health benefit of cabbage is because of the presence of glucosinolates that help prevent colon cancer, prostrate cancer, bladder and breast cancer.
5. Cabbage juice heals stomach ulcers and other problems associated to stomach and digestion.
6. Research has shown that cabbage is better at lowering cholesterol than a particular drug that is given for the same purpose.
Note
Some researches show that only short cooked and raw cabbage have cancer preventive benefits.
It is better to steam the cabbage than cook it for higher nutritional value.
Did you know?
In ancient Rome, cabbage was used as a cure for hangover.
In some parts of the world, mashed cabbage or cabbage juice is made into a poultice and used to treat warts and pneumonia.
It is one of the oldest vegetable that first originated in 1600's.