Chocolate Chips(चॉकलेट चिप्स)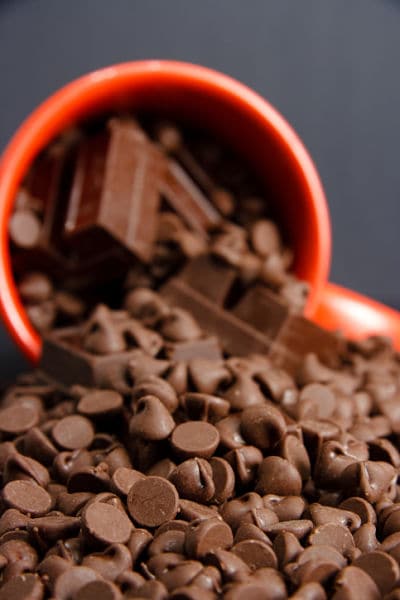 Hindi Name: चॉकलेट चिप्स


Chocolate chips are small bits of chocolate. They are available in different sizes, large to miniature. Circular, conical, square, rectangular, chocolate chips can be manufactured in any shape and size. They contain a smaller amount of cocoa butter than cooking chocolate.

While purchasing make sure they are nice, glossy and smooth. They shouldn't be blemished, grainy or with a greasy texture.

Types

Chocolate chips were originally made in a single flavour, but there are many new varieties which have been added. There is dark chocolate, bitter-sweet chocolate, peanut butter, mint, butterscotch, milk chocolate and white chocolate chips as well.

Usage

Most commonly used in cookies. The chocolate chip cookie is an American favourite and very popular across the world. Chocolate chips have found a presence in a variety of items such as waffles, cakes, ice-creams, crepes, puddings, muffins, pies, hot chocolates, milk shakes, pancakes, granola bars and of course cookies. Chocolate chips are most commonly used in cookies, cakes, muffins etc.

Why are chocolate chips prefered?

Here's the reason - One may wonder why they do not melt while baking in the oven. The truth is that they do melt but tend to retain their shape. If you try to break apart a chocolate chip just out of the oven you will notice that it's melted. Since they retain their shape on melting they are preferred in desserts than chocolate pieces that would completely melt on baking.

Interesting to Know -

The first chocolate chip was invented in 1930 by Ruth Wakefield by cutting open a chocolate bar and adding it to a rich butter cookie dough to make chocolate chip cookies. This recipe was soon discovered by Nestle and it bought the rights of the recipe and released the first chocolate bits in 1939 with Ruth Wakefield's name at the back of the cover.
Recipes using Chocolate Chips