Coconut Water(नारियल पानी)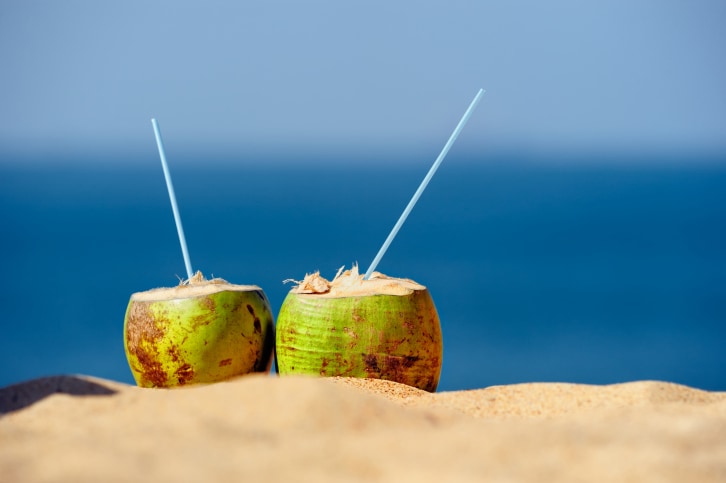 Hindi Name: नारियल पानी

Mother nature's sports drink, coconut water is often regarded as a natural electrolyte add-on to the human body. It is the liquid present inside young coconut shells. Coconut water is largely popular for its nutritional benefits. It has been a popular drink in the tropical region, especially India, Brazilian Coast, Pacific Coast, Africa and the Caribbean. The water is now sold fresh, bottled or canned.
Drinking water directly from the tender coconuts is the healthiest way of consuming this tropical cocktail. In the canned or bottled supplies, sugars are added, compromising on the nutritional levels. It is most preferred hydrating drink during the summer as it keeps the body hydrated.
Having high potassium and mineral content, it replenishes the electrolyte composition of the body. It has a considerable low amount of fat and cholesterol aiding in losing weight.
Nutritional Value
1. Coconut water is a rich source of B-complex vitamins. It is also said to have anti-viral and anti-bacterial properties.
2. The risk of kidney stones is reduced because of the mineral composition in coconut water.
3. Coconut water contains few minerals that are beneficial for anti-aging effects.
4. Coconut water contains potassium that reduces hypertension by excreting water from the body.
Did you know?
Coconut water is identical to human blood plasma.
Coconut water has been used as intravenous hydration fluid in countries where medical saline was unavailable.
Recipes using Coconut Water