Couscous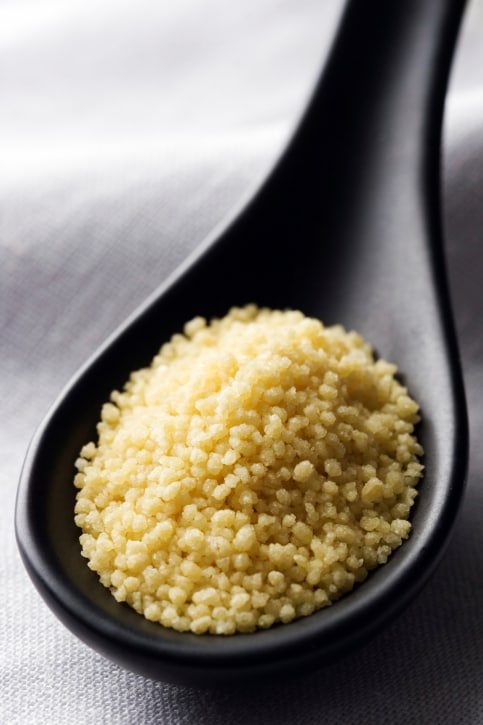 Made from steamed and dried durum wheat, couscous is now a popular alternative for rice and pasta. It contains tiny granules of semolina that have a slightly fluffy texture. Couscous is steamed several times until it gets the required texture.

Though being a traditional North African dish, couscous has adapted itself to various cuisines. In Libya and Morocco, it is cooked spicy and is served with vegetables and meat. In Egypt, couscous is more preferred to be eaten as a dessert. Couscous has been voted as everyone's favorite dish in various polls conducted all over France and Spain. Palestinians serve couscous as a dish during special occasions and holidays.

It is also prepared as a sweet dish called 'seffa' where steamed semolina is flavored with almonds, cinnamon and sugar. This may be served with flavored milk or as a cold soup. Though couscous doesn't have a flavor of its own, it is a best add-on for vegetable and meat recipes. It also blends well with salads and desserts.

Thanks to the instant couscous, the traditional preparation methods of spending hours drying and steaming wheat are given rest. Instant couscous is now readily available in all grocery stores.

Nutritional value

1. Compared to pasta, couscous is lower in calories. However, pasta provides better protein content.
2. Couscous is also a good source of Vitamin B that helps in brain function and cell growth.
3. Semolina wheat from which couscous is prepared is good source of dietary fiber, that helps to balance the blood sugar levels and lowers cholesterol.

Did you know?

The world's first manufacturing plant of couscous started in Algeria in 1907.
In some popular cultures, couscous is prepared symbolizing luck and blessings.
Wassa wassa is another form of couscous made using yams.