Cream Cheese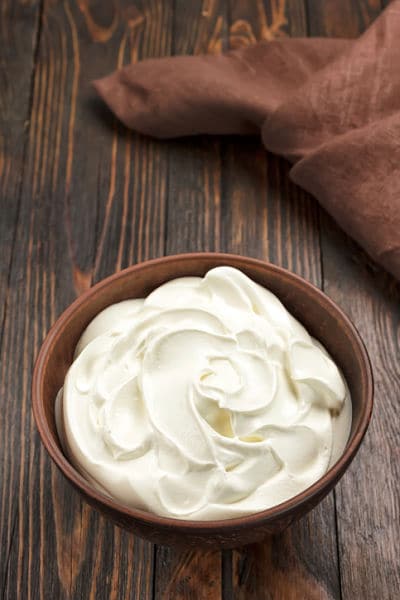 As the name suggests, this cheese has a soft creamy texture with a high fat content. Cream cheese is essentially made from un-skimmed cow milk and enriched with cream. It is an American favorite and considered by many as an American invention. Cream cheese is regarded as a fresh cheese, but must be consumed shortly after it is opened as it has a short shelf life.

The taste is very mild, sweet and slightly tangy. There are many variations and flavors of cream cheese infused with herbs, chilies and even fruits. It is in the same family of milk products such as cream, milk, butter and yoghurt.

Refrigerate it, tightly wrapped, for not more than a week. You should not freeze the cream cheese that would make hard and it will lose its flavor when thawed. Therefore it is recommended to use it at room temperature. Do not consume if you find any moulds over the cheese.

Usage

It is one of Americas most widely consumed cheeses. It is most often used as a spread over breads, bagels, crackers. It is also used as a dip, used to thicken sauces and in salads as well.

It is used as a substitute for or along with butter at times while baking cakes or making cookies. It is a common substitute for olive oil or butter in mashed potatoes.

It is the main ingredient in cheesecakes and is also used in light flaky crusts. It is a popular ingredient in most desserts. It is used as frosting for the ever so popular red velvet cake amongst other cakes, muffins or cupcakes. For frosting always use it at room temperature. It is an easy preparation and can be prepared at home as it is frugal and is ready within 24 hours. Milk is the basic ingredient required to make cream cheese.

Nutritional Value

It has a very high fat content due to which it is not preferred by many. It is lower in protein and calcium than other forms of cheese.

Types

Due to its high fat content, cream cheese is also made available in regular, light and fat-free versions for health conscious consumers. There are many flavours available and many people also opt to make their own flavors of cream cheese at home.

Did you know?

Early prototypes of cream cheese have been found in England as early as 1583.

Recipes using Cream Cheese