Fenugreek(मेथी)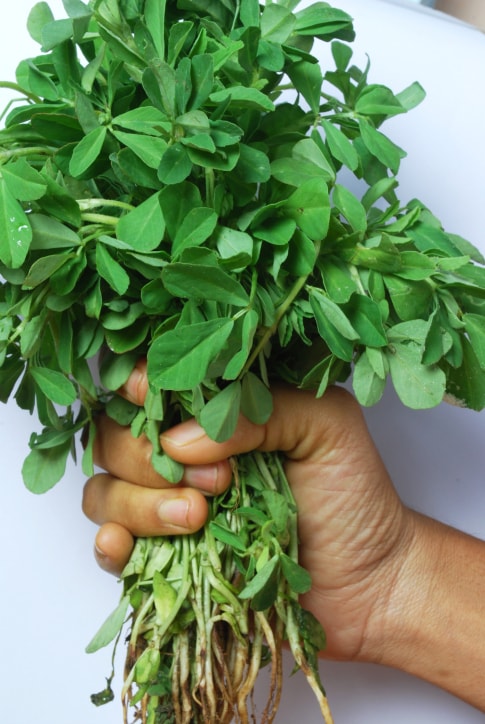 Hindi Name: मेथी

Fresh or dried leaves that have a slightly bitter taste, used widely in Indian dishes. 'Kasoori Methi' is its dried form which is also used in cooking. The plant has small round leaves which are cooked and eaten as a main dish.

Usage

Fresh leaves of the plant are used as a vegetable, mostly in Indian cuisines and can also be dried to use as a herb. The seeds of the fenugreek plant are used to make spices. In Yemen, it is also used to make a certain kind of sauce. Fenugreek also has a cultural value and is eaten during Rosh Hashana, the Jewish New Year. Fenugreek paste can be used to treat swelling, muscle pain, wounds etc. Sometimes it is used in drugs to remove the bitter taste.

Nutritional Value

1. Fenugreek seeds contain galactomannan which is known to reduce risk of heart strokes.
2. Fenugreek contains compounds that have oestrogen like properties and help against menstrual cramps and discomfort during menopausal symptoms.
3. Fenugreek is known to be a very useful vegetable for women. It is known to reduce labour pain and helps against iron deficiency post pregnancy. Diosgenin in fenugreek increases milk production in lactating mothers.
4. Galactomannan is a natural soluble fiber that makes fenugreek beneficial for people with diabetes.

Fenugreek is better known for the benefits obtained from its external use. The paste can help get rid or skin irritation, wounds, muscular pains, scars, etc. It is also used as a beauty product in face packs to remove pimples and blackheads. If consumed like green tea with honey and lemon, fenugreek can help reduce fever.