French Beans(बीन्स)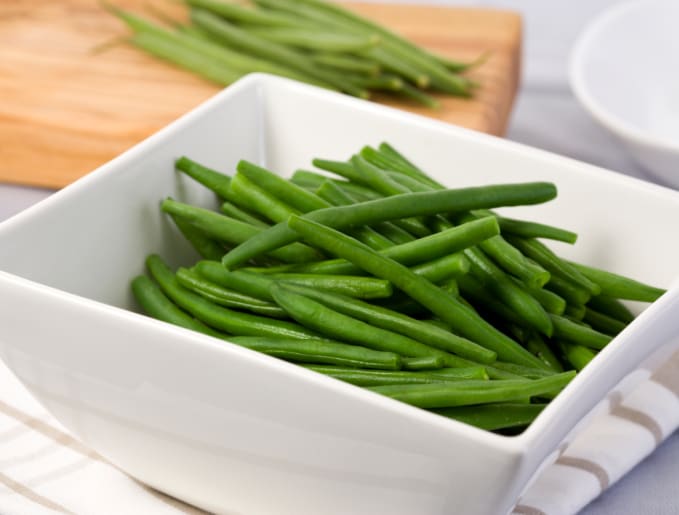 Hindi Name: बीन्स

French beans are thin, long pods with tiny seeds. Slightly smaller in size than the greener beans, French beans are tender, sweet and very crispy. The beans are of maximum use at a tender age, for as they mature, they become soggy.

Bush beans and climbing beans are the two varieties of French beans. The bush types are commonly available. The plant grows well in varied climatic conditions. There are again a variety of coloured pods like purple queen and orinicco, a yellow pod variety.

The climbing variety is not frequently grown as the bush type. They have a slower rate of maturity. The beans are generally healthy and yield a finer quality.

Usage

French beans are cooked in many diverse ways. The beans are blanched, boiled, sliced or chopped.

French beans along with carrots, peas and corn make a delicious recipe that is very famous in the Indian subcontinent. Yielding to their flavored taste in cookery, French beans are now of nearly widespread distribution. They are served stir fried with a variety of condiments or as an accompaniment to dishes like pasta.

It is essential to choose bright and crisp ones that can be stored for a few days in the refrigerator. Thinner beans are easier to cook and digestible compared to the larger pods.

Nutritional Value

1. French beans contain essential vitamins that aid blood cell production.
2. Vitamin B content helps in keeping the spleen and kidneys healthy.

Did you know?

French beans provide nutrients even to the soil! They supply nitrogen and essential nutrients that are essential to plant growth.
Recipes using French Beans