Ginger(अदरक)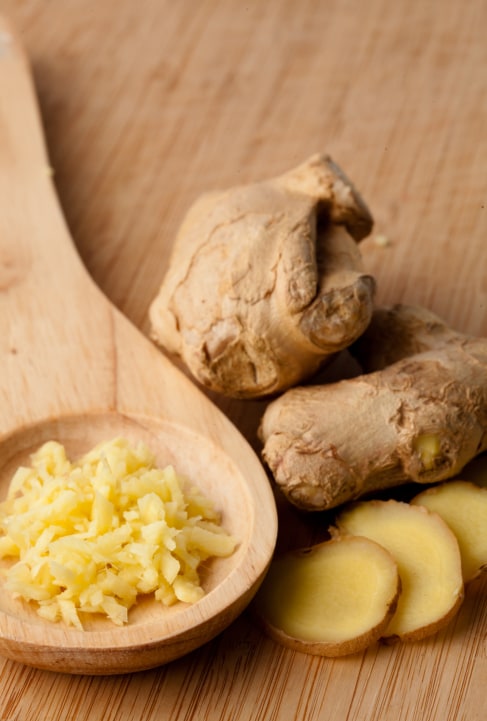 Hindi Name: अदरक

Ginger is the root of a Southeast Asian plant, known its pungent flavor and spicy aroma. Ginger plant also produces yellow flowers that have great aesthetic value. As an ingredient, it is pungent in flavor and very commonly used in Indian food. Ginger is known to stimulate the production of saliva, which makes swallowing easier. India is the largest producer of ginger in the world.

Usage

Ginger is popularly used in almost all South Asian cuisines. In India, it is used as a spice for cooking almost all vegetables and pulses. It can be made into a pickle or consumed as ginger tea with honey. Ginger candy is a type of confectionery made by cooking the root in sugar. A common western usage of ginger is in the form of beer and wine.

Ginger also has many traditional uses in the medicinal sciences. Ginger tea is consumed to provide relief from cold. Ginger ale is fed to children with flu. Ginger eggs are consumed to provide relief from coughing.

Note: Ginger can last for up to three weeks in the fridge. To prolong its life, you can also peel the outer skin and store it in the freezer, but it is always better to buy fresh ginger from the market.

Nutritional Value

1. Consumption of ginger by people suffering from arthritis can help relieve pain as it contains a very potent anti-inflammatory compound called gingerols.
2. It is very helpful in preventing motion sickness or seasickness as it helps against gastrointestinal distress.
3. During pregnancy, ginger is preferred over drugs to ease nausea because of its anti-vomiting property.
4. Ginger also has anti-tumor effects of the cells and helps prevent ovarian and colon cancer.
5. It is given to people with flu as it induces sweat and helps the body detoxify.

Did you know?

Ginger is antimicrobial.
During the ancient times, ginger was used a food preservative.