Grapes(अंगूर)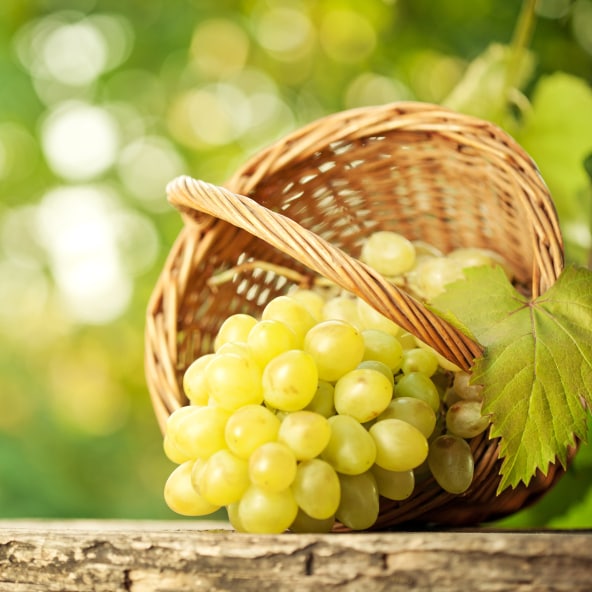 Hindi Name: अंगूर

A grape is a type of berry of woody vines that grows in clusters; they can be eaten raw or used to make wine, jam, raisins, vinegar, etc. Grapes are very low in calories. They are also good source of vitamins A, C, K and Carotenes. Grapes contain phyto-chemicals that have been found to have an anti-allergic, anti-inflammatory, anti-microbial, as well as anti-cancer property.

Types and Usage

Grapes vary based on their colour and whether or not they have seed in them. They are red, white, green, purple, and black grapes. They are either used for direct consumption as a fruit, or to make juice or in desserts. But its most common use is to make wine. For wine, most commonly used grapes varieties are the vitis vinifera species. Merlot, Cabernet sauvignon, Pinot noir ,sauvignon blanc, chenin blanc are a few varieties of grapes that are commonly used varieties from the west.

In India a variety of seeded grapes produced are Anab-e-shahi and bhokri that are white, Bangalore blue that are black and gulabi which are purple in color. The seedless grapes produced in India are flame that are red in color, perlette and thompson that are white and sharad that are black in colour. In India, anab-e-shahi is commonly used to make wine.

Note: For table consumption, the sweetest grapes are the green ones, purple are the ones with the simplest flavor and pick blue/black grapes only if they have a dark and rich color.

Nutritional Value

1. Grapes keep the body hydrated and maintain moisture in lungs. Therefore, they are said to be really good for asthma patients.
2. Quercetin and resveratrol are two compounds present in grapes that act as good antioxidants and help against heart diseases reducing the risk of heart attacks and lowering LDL cholesterol.
3. Consumption of ripe grape juice early in the morning helps against migraine.
4. Grapes are classified as laxative food and are helpful for eliminating constipation. (Do not consume grapes if you are suffering from diarrhea).
5. Grapes help reduce acid from the system and prevent kidney disorders.
6. Red grapes in particular have great antibacterial properties and are helpful against viruses.
7. Grapes are good for brain health protecting against Alzheimer's and delay neuro-degenerative diseases.
8. Grapes are rich in Lutein and Zeaxanthin and therefore are very good for eyes.

Did you know?

Grapes contain 80% water and are a very good low calorie snack.
During a process called veraison, grapes acquire red, green, orange, yellow and purple color in one cluster itself. Such grapes are called rainbow grapes.