Green Gram(मूंग दाल)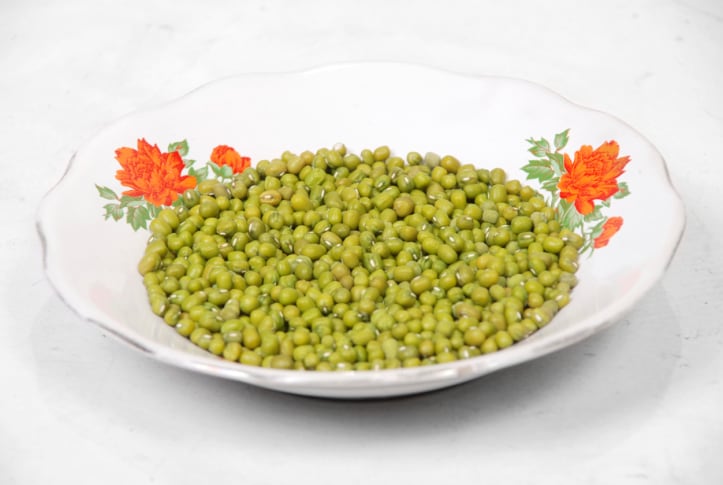 Hindi Name: मूंग दाल

The green gram is a small, round olive green bean with a sweet flavor and soft texture. The mung or moong bean is the seed of Vigna radiata, belonging to the Indian subcontinent. These are commonly used in South-Asian cuisine. They are yellow in color once the skins are removed.

Usage

It is mostly consumed as a main dish though sometimes it is also used to make sweet dishes. It is either cooked like a dish by boiling and adding spices, or can be made into a paste. Green gram sprouts are consumed directly with lemon and salt as a healthy snack or added to salad. This form of green gram is obtained by germinating them in water. In some parts ,its cover is removed to make green gram pulse.

In China green gram is used to make to a certain kind of dessert. In some countries, green gram paste is used to make ice creams or frozen ice pops. Green gram batter is used to make a certain kind of crepes named pesarattu in Andhra Pradesh.

Nutritional Value

1. It is a rich source of low fat protein, has a wide amino acid profile and contains no trans or saturated fats.
2. It has both insoluble and water soluble fibers that help maintain a healthy appetite.
3. Water soluble fiber helps lower LDL cholesterol and protects from cardiovascular diseases.
4. It digests slowly and gradually releasing sugar into the blood and helps maintain the blood sugar level.
5. It is said that the water in which green gram was soaked is a good medicine during cholera, measles and chicken pox.

Did you know?

Applying green gram powder on the face can give a good complexion.