Guava(अमरूद)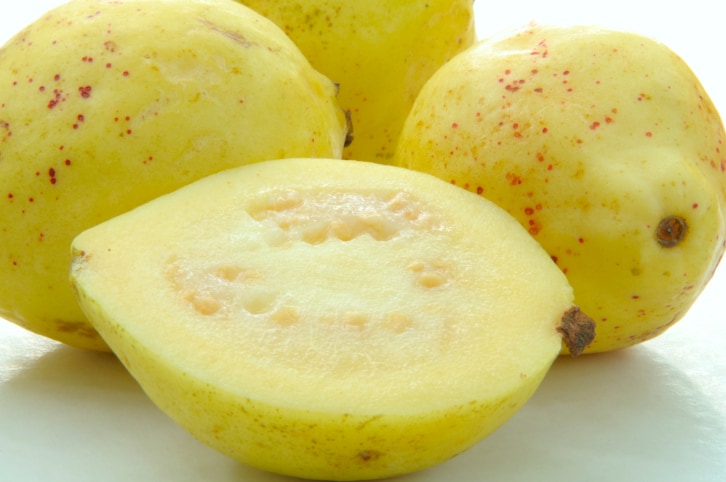 Hindi Name: अमरूद

The guava is a tropical fruit with a rough outer skin and a sweet seedy flesh. It gives off a fragrance which is similar to lemon. The outer skin is green and changes color to either yellow, maroon or green when ripe.

Types

Strawberry guava
Small fruits which are very juicy and full of flavor. It has a red skin and a white flesh.

Pineapple guava
Tangy fruit used often to make jellies, with edible flowers. Has a green smooth skin, oval shape with a creamy yellow flesh.

China white
Green skinned, white fleshed large fruit which is very aromatic. It is a tough fruit and can be eaten unripe.

Beaumont
With a pink sweet juicy flesh and yellowish skin, it's a medium sized guava.

Mexican cream
This guava has a sweet spicy flavor with a yellow skin, cream colored flesh and nice fragrance.

Red Malaysian
Pretty enough to be grown as an ornament, it has a red flesh and green skin.

South African
A cream skinned pink flesh guava that has a mild flavor and a crisp texture.

White Indian
A medium sized white fleshed guava grown nowhere near India, it has an excellent flavor and can be eaten slightly unripe.

Costa Rican Cas
Small fruit with a smooth green skin, white flesh, used most popularly in juices with an acidic flavor.

Usage

Aside from simply enjoying the fruit dipped in a little salt, it is also used in many desserts, mocktails, jellies, candies, jams and marmalade. Red guavas can sometimes be used a substitute for tomato for a lesser acidic flavor. The fruit and leaves are also used to make tea.

Health Benefits

It regulates blood pressure, is a remedy for constipation, reduces the rick of diabetes, has a very high content of vitamin C and also benefits thyroid function. It improves brain function, help with female fertility problems, improves eyesight, protects against prostate cancer and is very good for the skin.

Did you know?

One guava may have upto 535 seeds.
Guava is botanically a berry.
'Guavaween' is a traditional Florida event to celebrate the guava.