Hazelnut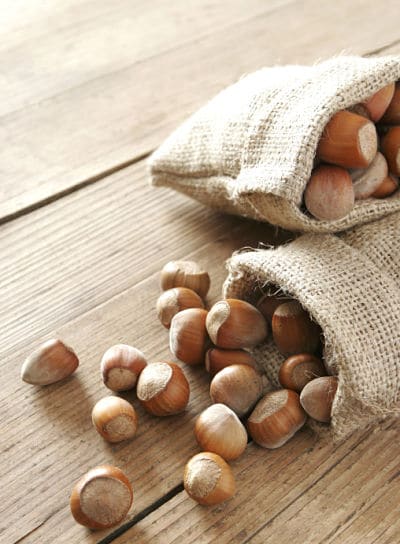 Hazelnuts grow in clusters on the hazel tree. Also known as cobnut or filbert nut, it is grown primarily in Europe and the U.S. These are small rounded grape size nuts having a broad spherical base and a pointy top. They have a dark brown jacket covering and the inner kernel is edible. The nut has an off-white creamy colour and a mildly sweet taste whereas the thin dark brown skin is mildly bitter. Hazelnuts must be refrigerated in order to be stored. They have a high fat content like most nuts and will go stale if not properly refrigerated. Store in airtight containers and they should last for about 2-3 months. Turkey is known to be the largest producer of hazelnuts.

Usage

You could eat them raw too but hazelnuts are best consumed after roasting them for about 10-15 minutes at around 175*C until the skins begin to flake. Some like to remove the skin and consume.

Hazelnuts are most popularly used to make flavoured chocolate pastes, most commonly found in Nutella and Feraro-Rochers. They are also used in confectionary to make praline. Hazelnut flavoured cold coffees, cappuccinos, milk shakes are very popular. Apart from these they are also used in cakes, chocolate truffles, frostings, muffins and ice-creams.

The roasted nuts can be used in salad or stir fried to add some crunch. They may also be powdered and used for flavouring frostings or dressings.

Hazelnut oil is strong in its flavour and may be used as cooking oil. About sixty percent of the nut contains oil. The oleic acid in the oil is known to decrease cholesterol.

Be cautious while consuming as hazel nuts are one of the most common triggers of nut allergies.

Nutritional Value

Hazelnuts are rich in protein, unsaturated fats, and antioxidant phenolics. Moreover, they contain significant amounts of thiamine and B vitamins. Hazel nuts are known to lower blood pressure as they contain minerals like magnesium and potassium.

Hazelnuts have a high content of oleic acids which effectively reduce blood pressure and prevent heart attacks and strokes. They help boost your memory as well.

Both hazel nut and hazel nut oil are dense with Vitamin E which helps to maintain healthy heart muscles. Vitamin E is also great for the skin and prevents premature ageing.

Did you know?

Hazelnut trees can continue producing for 80 years.