Hoisin Sauce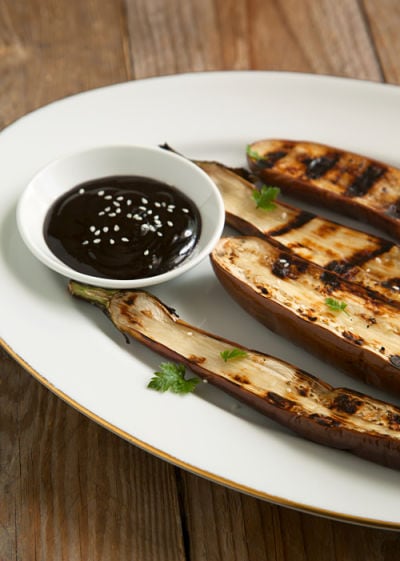 It is a Chinese sauce pronounced as 'HOY-sin' sauce. Hoisin means seafood though it does not contain any. It is dark in colour with a thick consistency. Its color varied from reddish-brown to dark brown. It is made from a combination of vinegar, garlic, fermented soy, sugar, soybeans, sesame seeds, chilli and sweetener. It is an authentic Asian sauce used in Chinese dishes with a strong salty and slightly sweet flavour. It has three predominant flavors - salty, spicy and sweet. It is pungent.

Usage

It is very commonly used in authentic Cantonese style dishes, Vietnamese cuisine and Thai preparations. It may be used to add colour to noodle dishes, grilled dishes and stir-fried dishes. It may be added with vinegar and oil to prepare light vinaigrette.

It is alternatively used as a barbeque sauce as well as a dipping sauce due to its strong flavour and thick consistency. As a dipping sauce it popularly used with egg rolls, spring rolls and other vegetarian appetizers and preparations. It is used to add flavour to dishes. It pairs well with prawns and shrimps too.

It is also known as Peking sauce as it is used in a dish called Peking Duck, a famous duck dish from Beijing. It is often confused with plum sauce and duck sauce, as they all have a similar consistency and color. Hoisin sauce gives a great glaze to meats and fish. It can be used as a BBQ sauce or can be added to the marinade. It has a very overpowering flavour so it is advised to use little at a time. You could also dilute the sauce with some water or oil.

Bottled hoisin sauce is available in leading supermarkets and should be stored in a refrigerator. Check the expiry date before buying and do not purchase or consume if you notice any bubble formation especially near the opening of the bottle. An unopened bottle can be stored in kitchen cabinets but once opened it should be refrigerated.

Nutritional Value

Though it contains a number of fat-free condiments, Hoisin sauce contains high amounts of sugar. It has a high calorie count and can majorly increase the sodium content of your meal.
Recipes using Hoisin Sauce