Jalapeno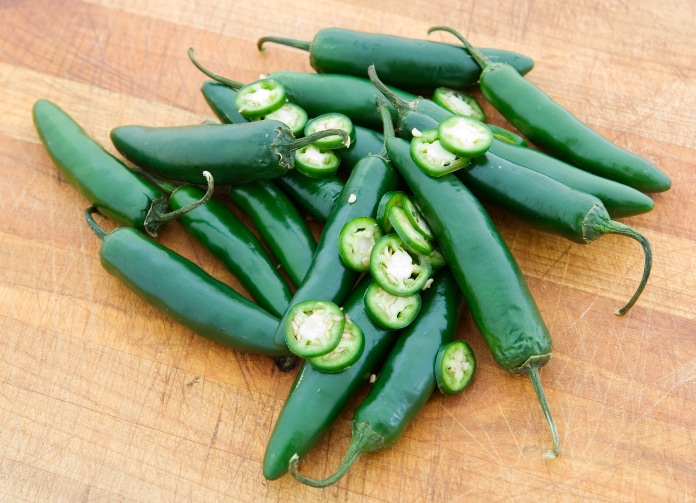 It is a dark green colored, medium sized chilli pepper that is very hot. It produces a burning sensation in the mouth when eaten. They may be pickled or eaten raw. The seeds of the jalapenos contain the heat.With a unique blend of sour and fiery, these chilies have a wide range of use on the culinary world. Though more commonly picked green when young, it is also allowed to ripen fully to a crimson red. Chipotle is jalapeno dried and smoked and carries a sweet flavor. Firm skin and absence of blemishes with dry lines is the sign of fresh jalapenos.

Usage

Jalapenos can be prepared in numerous styles. They can be cooked, stuffed with meat or cheese, served pickled with tortilla chips or dried and smoked to give a sweeter flavor. Jalapeno jelly is a new trend catching on, a muddled version is used in drinks and sauteed or diced is also another consumption pattern. Jalapenos can also be shredded, ground or crushed for use. The seeds give extra hotness and can be removed according to taste.

Are these fiery peppers healthy too?

Seasonal allergies are often cured by jalapeno juice, which is also used as a remedy for cardiovascular problems. They are also beneficial for migraine patients. Weight loss enthusiasts should include these in the diet since they burn away calories.

Did you know?

The jalapeno is named after the Mexican town of Xalapa (Jalapa).
The pepper has taken a historic space trip in 1982.