Keema(Keema)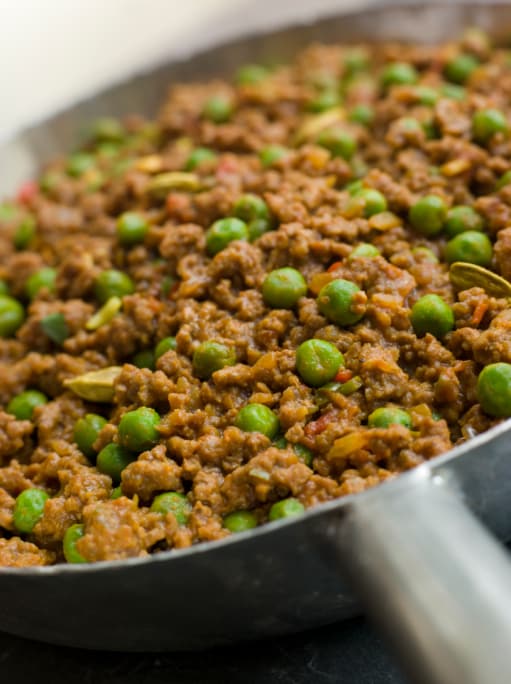 Hindi Name: Keema

Also called as minced meat, it is simply meat that has passed through a mincing machine to obtain smaller and finer meat pieces. This meat is popularly used in a wide variety of like burgers, pie fillings and pasta sauces. The most commonly grounded meat is beef, though meat of pork, lamb and poultry is also minced.

In South Asia, lamb and goat meat is minced to make Keema, a traditional meat dish. It is also made from almost any meat, cooked by frying or stewing. Keema is often used as a filling for samosas and naans.

These days veg keema is also available in restaurants made with onion, tomato, peas and ginger. The final taste of keema differs depending on the way it is prepared. Some people usually make a mixture of minced vegetable or soya mince with onion, tomato, peas without meat and call it veg keema. But typically, Keema is minced mutton curry that can be made with almost any meat .It can be either stewed or fried. It is either consumed as it is or used as a stuffing. It is very easy to make as it can be made in one pan and takes very less time.

Nutritional Value

A cup of keema provides 26 percent of daily value of calories and also has dietary fiber that helps lower cholesterol. But it does contain saturated fats that might raise the levels of LDL cholesterol. It also contains sodium. Since a high sodium diet contributes to high blood pressure, consumption of only small amount of keema is advised. Keema is also a source of vitamins and minerals like vitamin A, that is good for vision and potassium that helps regulate blood pressure. Since, there are many ways of preparing keema, its consumption must be altered accordingly.