Mint Leaves(पुदीने के पत्ते)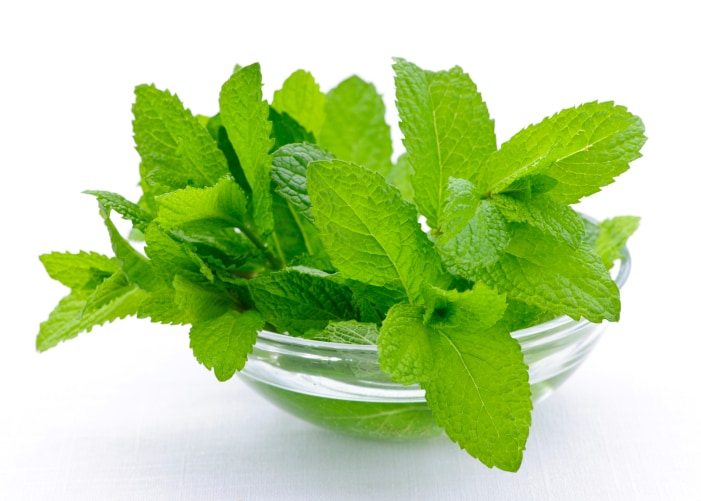 Hindi Name: पुदीने के पत्ते

Mint is a type of herb with a refreshing flavor. It can be used dried or fresh. They have a sweet flavor with a cool after taste. It has a strong, sharp scent. In India, it is used to make mint chutney and mint tea. Mint leaves are the oldest and the most popular herb grown all over the world. It has a very subtle flavor and aroma. The pepper mint, spearmint and apple mint are some of the common varieties.

Usage

Fresh mint leaves are used as an ingredient in many South Asian dishes. Chopped mint leaves are added as garnish in dishes dal and curries.

In India, mint leaves are used to make cool refreshing summer drink jaljeera.

Note: While buying mint leaves, look out for smaller and tender leaves with no signs of browning. The freshness of mint leaves is limited to two or three days.

Nutritional Value

Mint is packed with menthol which acts as a remedy for indigestion and chest pains. It disperses the excess energy released due to the digestive process by opening up and activating the pores in the skin and thus pacifies the aggravated pitta.

Mint leaves are rich in vitamin A and vitamin C. It is a good source of iron, magnesium and calcium. Peppermint herbs help to cure stomach aches or menstrual cramps. Also the minerals present in mint leaves helps to keep the bones strong. Dried peppermint leaves added to tea aides in digestion.

Did you Know?

It was a belief among the early Romans that eating mint would help increase their intelligence.
United States harvested 71,300 acres of peppermint in 2010.
The smell of mint is known to pacify temper.
Recipes using Mint Leaves