Muesli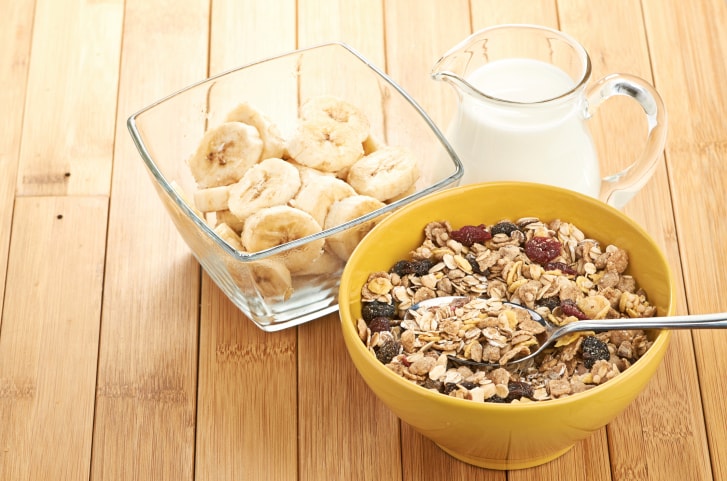 Muesli is a type of ready-to-eat cold breakfast cereal. It is made with a combination of oats, fresh or dried fruits, wheat flakes, nuts, seeds etc. It can be mixed with milk, sweetened yogurt, fruit juice and eaten. You can add fresh fruits also if you wish to. It is available in a packaged dry form or it can be made fresh also. The name 'Muesli' is derived from a Swiss-German word which means 'mixture'.

Types

Packaged muesli- Packaged muesli is a loose mixture of mainly oats with pieces of dried fruits, nuts, seeds etc. It may contain honey, sugar or natural fruit sugar and other flavours. It can be stored for many months.

Fresh muesli- It is freshly prepared using rolled oats or whole grain oats after having soaked them in water or fruit juice.

Usage

It is popular used as a breakfast cereal. It can be used in shakes and morning drinks also. You may also use it as a topping on desserts, yogurt etc. It can be added to cakes, muffins, cookies, salads for that extra healthy crunch. Chose a package with maximum oat flakes or rolled oat content. They are very healthy. Muesli must be stored in airtight containers to maintain its freshness. Check for the expiry date before purchasing.

Nutritional Value

Its benefits are similar to that of oats only the ones loaded with flavourings and sugar may not be in your favour. But you an chose from a wide variety that is available these days.

1. It is great as a breakfast food as it fuels you with energy.

2. It is a good source of dietary fiber.

3. The high fiber content keeps you full for a longer time thus keeping untimely hunger pangs at bay.

4. It is also a good source of B-complex vitamin which speeds up the metabolism.