Mustard Oil(सरसों का तेल)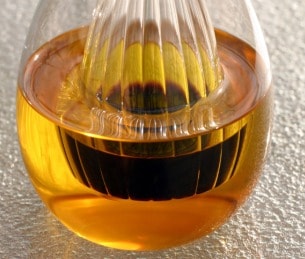 Hindi Name: सरसों का तेल

Essentially, mustard oil is produced by heating the seeds and carries a distinctive pungent taste. It can either be a vegetable oil, essential oil made by distillation or soybean oil. Black mustard, white mustard and brown Indian mustard seeds can be used to procure the oil. Besides being a cooking oil, it is also used as a massage oil. It is bright yellow in color. It is much used as a cooking oil in Bengali cuisine. The pungent aroma transforms into a sweet flavor on cooking.

Is mustard oil better suited for cooking?

It has a low saturated fat content thus it is good for the heart. It also detoxify's the human body and prevents fungal growth. Mustard has a long list of medicinal properties. It helps in keeping the body warm. It helps relieve cold and cough ailments.

Types

Black mustard oil: Has a strong taste and a spicy odor until refined to a neutral taste.

White mustard oil: Bitingly pungent taste.

Recipes using Mustard Oil