Olive Oil(जैतून का तेल)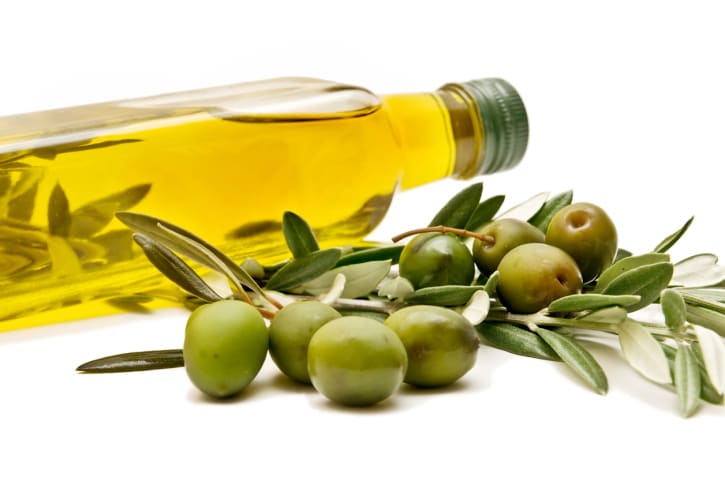 Hindi Name: जैतून का तेल

This oil is obtained from olives. It can be used in multiple ways like in food or in cosmetics, soaps, pharmaceuticals etc.It is mostly used in Mediterranean countries.There are different types of olive oil with different flavor and quality. It has a very subtle aroma. It is a very versatile ingredient and is often used in cooking and is preferred more than other forms of oils as it has a lesser fat and butter content. The prices vary according to the quality.

Olive oil is not only used for cooking but also for beautification. It is used for head and body massages and helps strengthening nails.

Nutritional Value

Olive oil reduces the risk of heart attack or a stroke and lowers blood cholesterol. It also helps to maintain a healthy blood sugar level and blood pressure and a prevents gastric cancer.It contains antioxidants such as vitamin E which helps to lead a long healthy life.It is very suitable for those people who suffer from diabetes and it also helps to reduce the level of obesity.

Types

1.Virgin Olive Oil: This type of olive oil is free from acidity and is expressed as oleic acid with not more than 3 grams per 100 grams. These are obtained from the original fruit without any other treatment.

2.Ordinary Olive Oil- This type of olive oil is free from acidity and is used for frying or where flavor is not wanted.

3.Lampante Oil- This is not suitable for consumption and is commonly used in oil burning lamps.

4.Olive Oil: This oil is a mixture of virgin and refined production oil and it lacks a strong flavor.

5.Blended Olive Oil: This involves combining of different kinds of olive oil to form a desired flavor. It increases the shelf life. Sometimes olive oil is blended with other vegetable oils too.

6.Extra Virgin Olive Oil: This is the highest quality of olive oil. It is rich in antioxidant and is also known as the queen of olive oils.It is most commonly used in salads.

7.Pomace Olive Oil: This type of oil is very is very similar to pure olive oil. This oil is blended with virgin olive oil to impart some of the benefits of olive oil. This is very good for high heat cooking.

8.Refined Olive Oil: This type of oil is called so because it is obtained by refining olive oil. It is considered much inferior to other types of olive oil and is used mostly for cooking purpose and are not used in salads.

9.Light or Lite Olive Oil: This type of olive oil is a very low grade of olive oil. It is low in aroma and flavor and is most commonly used for cooking and baking.

Usage

Extra virgin olive oil: Salads
Virgin olive oil: Sauteing, salad
Pomace: Best for Indian cooking as it has a high smoking point as comapred to the other olive oil varieties.

Interesting Facts

Olives do not hold much oil when they are green in color but that's when they taste the best. However, when they turn black their taste is less intensive and at that time it contains more oil.

The major difference between olive oil and other vegetable oil is its rich flavor.

Contrary to what people might think, it does not get better with age i.e it is desirable only till 18th months and after that it should be thrown away.