Parsley(अजमोद)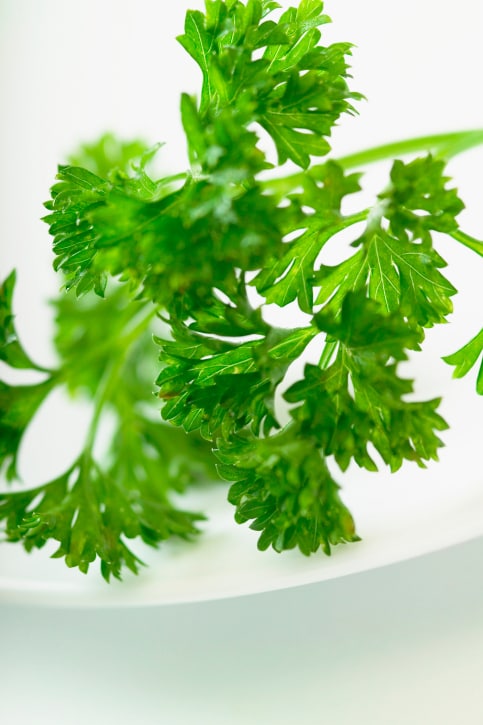 Hindi Name: अजमोद

Parsley is a herb that is commonly used for garnishing, especially in Italian cuisine. It is native to the central Mediterranean region where is it widely cultivated as a herb, spice and vegetable. In many countries, dishes are served with a small amount of fresh chopped parsley sprinkled on top. It is available both fresh and dried.

Usage and Types

Flat-leaved parsley has a strong flavor and is preferred for cooking as it is easier to cultivate. Curly leaf parsley is a preferred variety for garnishing. There is a third variety of parsley, called the root parsley and is mostly used in soups and stews or as a snack. Parsley seed oil is used in manufacturing to add fragrance to soaps, cosmetics, and perfumes.

Nutritional value

1. Myristicin is a volatile oil present in parsley that has shown tumor inhibiting properties in the lungs.It is for this reason that it qualifies as a chemoprotective food that can help neutralize carcinogens which are a part of cigarette or chimney smoke.

2. Flavonoids like luteolin present in parsley prove to be powerful antioxidants that protect the body from damage causing radicals.

3. Parsley is also an excellent source of Vitamin A and Vitamin C that are anti-inflammatory and help maintain a healthy immune system.

4. It also contains beta-carotene which is responsible for reduced risk of conditions like atheroscelerosis, diabetes and colon cancer.

5. Parsley applied directly to the skin can be useful in case of cracked or chapped skin, bruises, insect bites, lice, parasites, and to stimulate hair growth.

Note:

Some people are allergic to parsley and get skin reactions in applied directly.

Parsley should not be consumed in very large amounts as it can cause a side effect called tired blood that is a form of anemia.

People with kidney related problems are advised not to consume parsley.