Pearl Millet(Bajra)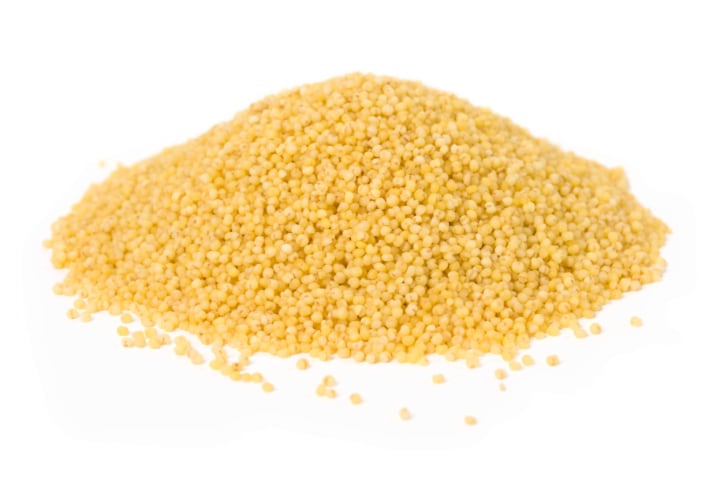 Hindi Name: Bajra

A cereal, used a lot in rural India, it has a high fiber content. The most common millet is pearl millet i.e bajra, which is an important crop in India. India is the largest producer of pearl millet. Very famous in Rajasthan, it is the most famous type of millet. Bajre ki roti with sarsoon da saag is one of India's signature dishes from the farms. These brown grains incorporate a nutty and bittersweet after taste. It is commonly prepared as a bread and stuffed parathas whereas the flour can be used to make dokhlas and chaklis. Bajra should always be consumed fresh therefore it is best to purchase it in small quantities.

Usage

Over 90 percent of pearl millet cultivated is consumed as food by humans. Having its texture similar to brown rice, it can be cooked like rice. It is also used in the preparation of flat breads.

Pearl millet is grounded to flour and is used in making various baking products like breads, cookies, muffins, chapatis and biscuits. It lasts for not more than 15 days. The dried bajra grains are ground to flour which is light brown to greyish in color with a nutty taste. Bajra flour is usually used in winters as it is known to warm the body.

Nutritional Value

Bajra is high in proteins, iron, calcium, folic acid and prevents anemia. It is higher in calorie count than wheat. It also promotes a healthy nervous system. Many claim bajra is the key to a slim waist since it aids in burning fat. It helps to overcome acidity due to its alkaline nature.

Did you know?

Bajra is called babala and lebelebele in Africa and milheto in Brazil.
One cup of dry pearl millet expands to three cups of cooked millet.

Recipes using Pearl Millet