Rice Noodles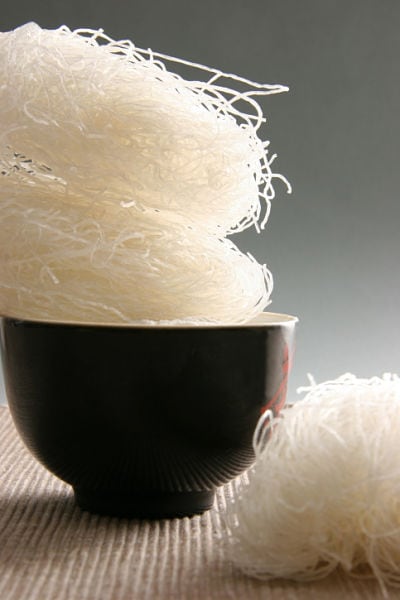 The main ingredients of rice noodles are rice flour, water and salt. They can be thick or very thin and also flavored with ingredients such as tapioca or corn starch to change their quality. They are also known as rice sticks.

When raw they are very brittle and on cooking they turn translucent and chewy. Mostly used in South-Asian cuisine. They cook very fast & turn mushy if over cooked. A variety of rice noodles called Idiappam are cooked in Tamil Nadu and parts of Kerala.

Preparation Method

When being used in stir fries or soup, keep the noodles in a large bowl and cover with lukewarm water for a few minutes until they start separating. Since they are only partially cooked, rinse them with cold water immediately and add the the dish near the end of cooking time to cook them out. If they are to be used later, sprinkle some sesame oil to prevent them from sticking together.

When the noodles have to be cooked completely, pour boiling water over the noodles in a pot. Let them soak for ten minutes and keep stirring to keep them from sticking. They are done when limp. Sesame oil will again keep them from drying out or clumping.

Types

Rice flake noodles: These come on flat thin triangular shapes and are cooked very fast, in under two minutes.

Rice vermicelli: Long and very thin, they can be used in soups, cold salads, stir fries, spring rolls or as a garnish.

Thin rice noodles: With a similar variety of uses, they are prepared by soaking in hot water for 15 minutes and boiling for 2-3 minutes. They can also be deep fried.

Medium rice noodles: Most versatile, they are used as base for meats and fish.

Wide rice noodles: Prepared in a similar manner, they are used in broths and stir fries.

Rice ribbon noodles: With a chewy texture, they are broad rice noodles which can also be used as wraps for meat once steamed.

Health benefits

They have a very low fat content but don't have a high content of protein and fiber either. It is an excellent alternative to wheat for allergic people.
Recipes using Rice Noodles