Semolina(सूजी)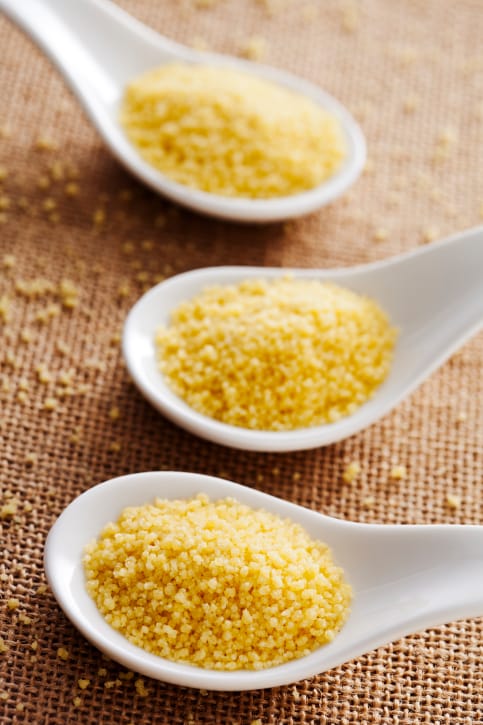 Hindi Name: सूजी

Also popularly called as semolina or rava, Suji is made from dried durum wheat. The colour of the Rava depends on the quality of wheat. Semolina is usually yellow in colour when made from Durum wheat. When made from softer wheat types, the colour is white. It is available all-year round.

Usage

It is commonly used in making pasta, puddings, cereals and couscous. It is an essential battering ingredient in many Indian dishes. A fine version of Suji is used for batters, whereas a coarser form is used as an ingredient. Semolina is used in various forms in various cuisines. In North Western Europe and North America, Semolina is served as a dessert, boiled in milk. Italians use semolina while making gnocchi and pasta. It is sprinkled over the recipe to avoid sticking. In south Indian cuisine, semolina is used to prepare savoury dishes like Rava Dosa, Upma and Kesari, a mildly spiced dessert-cum-sweet dish. It is used to make the ever so popular, Suji ka Halwa.

Semolina gives a tender texture with a pleasant taste while preparing pasta. In many Western countries, Semolina is flavoured with Vanilla and served as jam or red-currant sauce. To prevent sticking, Semolina is used as an alternative as the baking flour. A small portion of durum semolina is added to the mix flour to make the bread crust tasty.

Nutritional Value

1. Made from durum wheat, Semolina digests slowly making you feel full for a longer duration of time.
2. Thanks to its potassium content, Semolina improves kidney function.
3. Semolina is a good source of several B-Complex vitamins [thiamine, folate] and Vitamin E, which help to support your metabolism and in building the immune system of the body.
4. It is rich in minerals, such as phosphorus, zinc and magnesium which help strengthen the bones and improves the nervous system.
5. It is a quick and nourishing source of energy.
6. It is rich in iron.

Caution: Semolina contains gluten, which makes it unsafe for those suffering from celiac disease or gluten sensitivity.