Sesame Oil(तिल का तेल)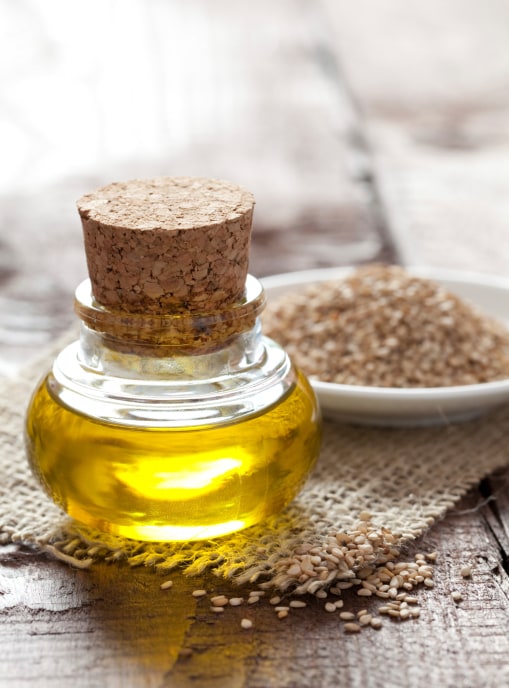 Hindi Name: तिल का तेल

Edible oil made using sesame seeds, it is used as cooking oil and to enhance flavor. The color of the oil varies from colorless to golden color to a dark brown made from roasted seeds. Colorless oil has fewer flavors than the dark brown oil as it is produced from raw seeds. Sesame oil is very popular in Asia and is one of the earliest known crop based oil.

Usage

Owing to its odorless and tastelessness, it is ideal for baking and as a salad oil. It is also used in the pickling process and for deep frying due to its high smoke point. Crumb coatings may also contain sesame oil.

Sesame oil seeps into the skin easily and is hence popularly used as a body and hair massage oil in India. It provides nourishment to the skin and rejuvenates the body.

In India it is also used for lighting up diyas [oil lamps].

The traditional Indian medical practice of Ayurveda uses sesame oil to pacify stress related symptoms.

Nutritional Value

1. Sesame seeds contain Zinc which is an essential mineral for giving skin elasticity and repairing damaged tissues in the body.

2. It has high protein content.

3. Sesame oil helps in removing dental plaque and boosting oral health.

4. It contains magnesium that helps combat diabetes and lower blood pressure.

5. It contains an anti-inflammatory and antioxidant compound called sesamol and is therefore helpful against heart and inflammation related diseases.

6. Sesame seeds also contain and anti-cancer compound called phytate and there sesame oil is helpful in preventing cancers.

7. It is a big energy store and helps regulate cholesterol levels. It is a healthier choice for oil and can also work as a laxative. Sesame oil is a good source of vitamin E and rich in anti-oxidants.

How to store

Sesame oil must be refrigerated after opening in order to extend shelf life. On refrigerating, the oil may solidify a bit and become a little cloudy, but this does not affect the flavor of the oil. Once heated it returns to its original flavor and consistency.