Soya Sauce(सोया सॉस)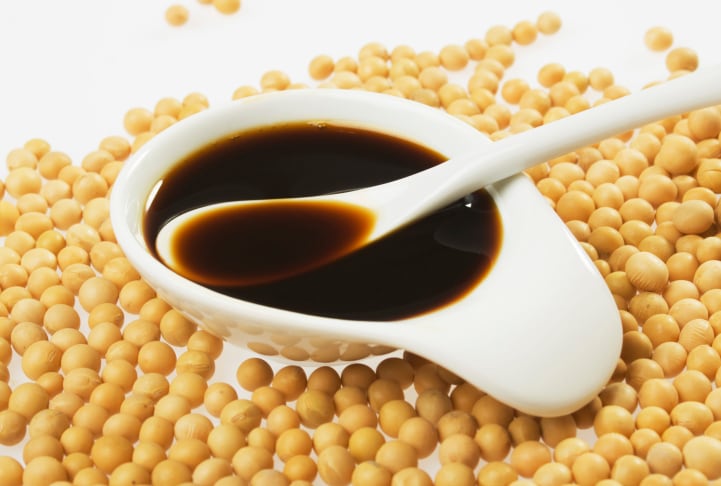 Hindi Name: सोया सॉस

Used as a staple condiment and ingredient, soya sauce is made from fermented soya beans, roasted grains or barley, salt and water. It is added in rice, used for stir-frying and as a dipping sauce. Soya sauce is usually salty with a chocolate brown colour. It has been integrated into the traditional cuisines of East Asian and Southeast Asian cultures. Soy sauce is generally sold in sealed glass bottles.

There are many varieties of soya sauces depending on the variations of consistency, aging and strength of the flavour. The most commonly found varieties are dark soya sauce and light soya sauce. The latter variety has a thinner consistency and saltier flavour. It is often used in cooking as the pungent odour of the dark soya sauce can ruin the flavour of the dish. Light soya sauce is commonly used while marinating, cooking and as a dipping condiment.

Dark soya sauce has a thicker flavour having much darker brown colour. This sauce is more used for its colour than the taste it adds to the dish. Adding more of dark soya sauce can yield a bitter taste. It has a pungent odour. There are additional condiments that are added in the making of dark soya sauce that differs it from the light soya sauce. The ingredients added vary from various cultures. In China, straw mushrooms are added to prepare mushroom soya sauce. Dark soya sauce is aged much longer than the light variety.

Soya sauce is a vital ingredient in Chinese food. It is used as a seasoning agent while sautéing vegetables. It is also used as an alternative for salt in stews and soups. It blends well with spices like garlic, onions and ginger.

Nutritional Value

Soya sauce is a rich source of manganese and protein.

Since it is used as a replacement for salt, Soya sauce is an excellent option for common salt-restricted diets.

Soya sauce contains different types of antioxidants.

Caution: Overconsumption of soya sauce can lead to health problems as it contains a large amount of Sodium.

Did you know?

Soya sauce is listed as one of the eight foods responsible for a most food allergies in the US. The usage of soy sauce dates back to 2,000 years ago, during the Zhou dynasty.