Turkey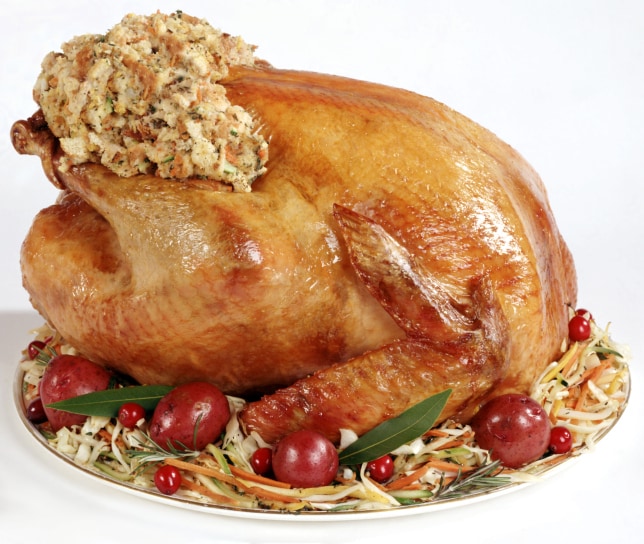 The turkey is a large poultry bird that is said to have been domesticated by the people of Mesoamerica. It is sold sliced and ground or as a whole like chicken with its head, feet and feather removed. Sliced turkey is used in sandwiches or served as cold cuts. The turkey is now a year round food enjoyed for its intense flavor.

Turkey is often used as a substitute for chicken. Turkey is often preferred over beef as it has lower calorie content. Turkey meat is a better, less risky, less fattening and a much healthier meat to consume as compared to beef. Once spices and seasonings are added, there is hardly any difference between the two meats. High quality lean turkeys are better than all forms of beef.

Usage

It is often used as a substitute for chicken. Stuffed turkey is eaten as a main course in many parts of the world. It is mostly famous around Christmas and Thanksgiving. Thanksgiving is alternatively also called as Turkey Day. Turkeys are usually baked or roasted.

Sliced Turkey is often used in sandwiches. Turkey meat is used in burgers and often preferred over most other heavy meats as it is less fattening.

Nutritional Value

1. With all the benefits of a chicken, being high in protein but having lesser fat and cholesterol content, turkey is a highly recommended meat. Ground turkey is a healthy alternative to ground beef. It has zero carbs.

2. Pasture raised turkey contains omega-3 which is very good for cardiovascular health.

3. It is extremely rich in selenium and most of the B vitamins.

Tip: Turkey has a dry flesh and should be basted constantly while cooking, or the cuts should be marinated before cooking. Try to procure high quality lean turkeys for deriving maximum health benefits. Buying organic varieties of turkey are definitely a preferable option to avoid health risks.

Did you know?

These big birds actually sleep in trees!