Turmeric(हल्दी)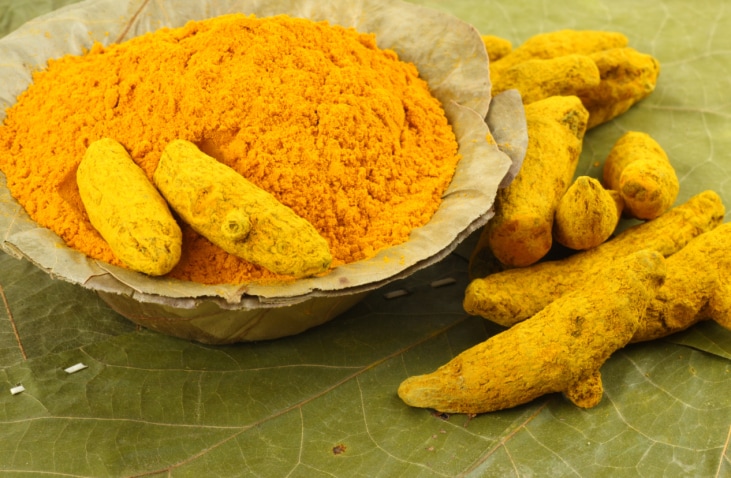 Hindi Name: हल्दी

Turmeric is considered as a skin food in India and many other popular cultures. It is a bright yellow powder made from the rhizomes of turmeric. It is available as a whole root or in powdered form. India and Pakistan are the leading producers of Turmeric.

From a substantial part in daily cuisine to medical practices, Turmeric has always taken a prominent place. It is also regarded as the golden spice of life, an important ingredient in culinary all over the world, majorly in South Asian and Middle-eastern cuisine. In Persia, it is used as a starter ingredient.

In many parts of India, Turmeric is considered highly auspicious, and has been extensively used in various ceremonies.

Usage

It imparts a musky flavour and yellow colour to curries and is extensively used in Indian dishes, from vegetables to meats. Though it is generally used in powdered form, but turmeric is also used fresh like ginger. In Indian dishes, turmeric is most often used to impart a rich yellow color to the various recipes. It is also used in baked products, canned beverages, dairy products, ice-creams, yoghurts, orange juices, cereals, cake-icings etc.

In India, turmeric finds mention in Ayurveda since ancient times as it has been used as a remedy for stomach and liver ailments. It has antimicrobial properties and is therefore used to fill open flesh wounds. It is popularly used to cure skin allergies and conditions such as eczema, chicken pox and even scabies.

Nutritional Value

In the traditional Indian medicinal practice Ayurveda, turmeric is used as a treatment for a range of diseases like those of skin, pulmonary, aches, pains and wounds. It acts as a soothing potion and has anti-oxidant, anti-bacterial and antiseptic properties. People suggest drinking turmeric infused milk to heal internal injuries.

Turmeric is also in cosmetology where applying turmeric paste is used to beautifying and help in enriching the rich complexion.

Did you know?

Since it is a botanical compound, Turmeric is not patentable.

90% of turmeric production happens in India.

Turmeric tea is a popular beverage in Okinawa, Japan.