Walnuts(अखरोट)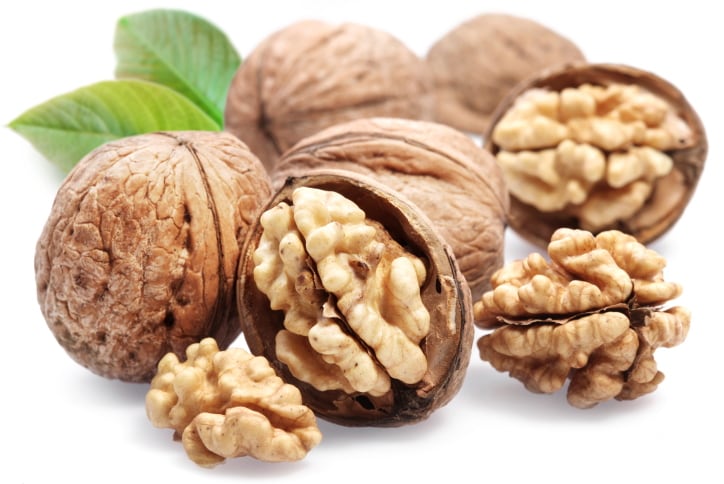 Hindi Name: अखरोट

Walnut or akhrot is an edible, hard shelled dry fruit used in main dishes and sweets and desserts as well a hard-shelled dried fruit that are used in main dishes as well as desserts and salads. It is a great source of nutrients like proteins.

Types

Three of the main types of walnuts consumed are the English (or Persian) walnut, Juglans regia; the black walnut, Juglans nigra; and the white (or butternut) walnut, Juglans cinerea.

Usage

You can add it to yoghurts, desserts or healthy vegetables. It can also be added as a stuffing in Indian breads, or poultry dishes. Walnuts are often used in desserts to make chocolate brownies and a variety of cakes. Walnut chocolates are very popular as well.

They can be mixed very well in salads. Walnuts are used to make granola and are a major ingredient in a variety high-nutrition granola bars.

Nutritional Value

1. It helps in decreasing LDL or bad cholesterol in the body.
2. It is rich in omega-3 fatty acids that have anti-inflammatory properties and help lower the risk of blood pressure, coronary artery disease, strokes and breast, colon and prostate cancers.
3. They are rich source of many phyto-chemical substances that have anti-oxidant properties and help against cancer, aging, inflammation, and neurological diseases.
4. They are an excellent source of vitamin E, which is a powerful lipid soluble antioxidant, required for maintaining the integrity of cell membrane of mucus membranes and skin by protecting it from harmful oxygen-free radicals.
5. They also very are rich source of minerals like manganese, copper, potassium, calcium, iron, magnesium, zinc, and selenium.

How to choose and store

If purchasing shelled walnuts, look out for the ones which seem heavy for their size. Choose walnuts that have firm shells which are not cracked or stained. Avoid walnuts which look rubbery or shriveled. Ensure that they do not smell rancid.

For longest possible storage, walnuts must be refrigerated in an air-tight container and there should be minimal humidity. They are highly perishable and must be kept in a cool, dry and dark place.

Did you know?

Because walnuts resemble the brain, they were believed in medieval times to be able to cure headaches.